'What Maisie Knew' looks at a marriage from a child's perspective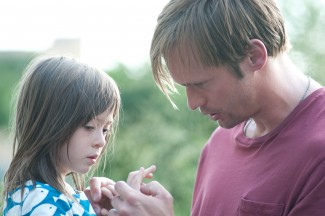 Based on the famous Henry James novel, What Maisie Knew is an intimate portrait of a disintegrating marriage. However, rather than focusing on the husband and wife, the story looks at what happens to the collateral damage: the innocent child who is pulled between both parents.
Onata Aprile turns in a powerhouse performance as the title character. She's a perceptive young girl who dotes on both of her parents, always wanting to see them and appreciating their promises of better days to come. It's one of the saddest cinematic events of the year to watch Maisie's confidence shake to its core. Suddenly those promises of settling down become emptier than the places her parents leave her unattended. New people enter the girl's life, and she's shuttled around New York City like an afterthought.
Julianne Moore and Steve Coogan play the once dearly betrothed. Moore is Susanna, the lead singer of a rock band who seems to value her recording sessions and touring schedule over spending quality time with Maisie. Coogan's Beale is no better. His business interests take the forefront, even when he's tasked with watching his daughter. Complicating matters is when Beale starts dating Margo (Joanna Vanderham), Maisie's nanny when the parents were still together. Seemingly out of competition with her ex-spouse, Susanna nabs a new boyfriend, Lincoln (Alexander Skarsgård from HBO's True Blood).
The acting from the ensemble cast is some of the best of the year; however, the standout is Aprile. Her lines of dialogue, expertly written by Nancy Doyne and Carroll Cartwright, are simplistic and truly child-like. Maisie doesn't speak in soliloquies about her parents and their negative influence. After all, she's a young child with limited vocabulary. Instead, the girl makes lemonade out of the horrible lemons that are given to her. When she's told to play in her room, she goes and plays in her room. When she's told there's someone new who will be watching her after school, she nods her head. The passiveness of this girl breaks the heart because it's so obvious to us, the audience, that her best interests are not being taken care of by the adults in her life.
Skarsgård, normally sucking blood from people's necks on HBO, offers a surprisingly somber performance. Lincoln, at first, seems like a stereotypical rocker — waking up late, never taking life too seriously. But it turns out in this morality play that Lincoln and Margo are more dependable than Susanna and Beale. This is mostly because Lincoln and Margo sit in our positions, viewing this toxic relationship from the outside. They can see the anguish that Maisie is enduring.
Moore is also quite good in her role, although the entire rocker subplot feels a bit forced and unrealistic. Coogan's aloofness comes across more believable, mostly because it seems so harsh.
Directors Scott McGehee and David Siegel smartly keep the focus on Maisie. There is almost no time during the movie's duration when the camera isn't following the girl. The technique reminded me of Steven Spielberg's E.T., which never left the viewpoint of the children. This makes What Maisie Knew a different type of film about marriage and divorce. The arguments over who was right and who was wrong are not important. All we care about is how Maisie will fare given all the unfortunate circumstances of her young life.
By John Soltes / Publisher / John@HollywoodSoapbox.com
What Maisie Knew

Directed by Scott McGehee and David Siegel

Written by Nancy Doyne and Carroll Cartwright; based on the novel by Henry James

Starring Onata Aprile, Julianne Moore, Steve Coogan, Joanna Vaderham and Alexander Skarsgård

Running time: 100 minutes

Rated R for some language

Rating: