'Man of Steel' puts Superman franchise back on track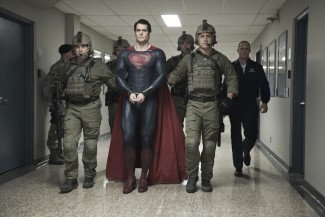 Zack Snyder has created the summer movie of the year with Man of Steel, an exceptional reboot of the struggling Superman franchise. Newcomer Henry Cavill plays the big alien with the powerful strength, and he offers a believable, grounded portrayal that helps catapult the film into near brilliance. Supporting work from Russell Crowe, Michael Shannon and Amy Adams solidifies the long film (nearly two hours, 30 minutes), allowing audience members to simultaneously be thrilled by the action and care for these convoluted characters.
The approach to the film is different than previous incarnations. Snyder and his screenwriter David S. Goyer are less interested in the Clark Kent origin story and much more interested in how Superman, or Kal-El, came to be. This means that this Superman film is science fiction (!!!). The first sequence takes place on Kal-El's home planet where insurrection has caused turmoil. Jor-El, Kal's father, makes a heroic stand to save the planet and set up his son's destiny. So Kal-El, now only a baby, is sent to Earth to live and perhaps one day become the savior of his home planet.
Diane Lane and Kevin Costner play the surrogate parents to this new human baby, called Clark Kent. His formative years are difficult, and he becomes a drifter, taking strenuous jobs in remote locations. It takes some prodding from his home planet for Kal-El to realize he's called to do greater things. The prodding comes thanks to the megalomaniacal Gen. Zod (Shannon), a man hellbent on destruction that's cloaked in survival of his species.
The battles between Zod and Kal-El are epic, but Snyder knows how to layer in drama to the CGI-intense action scenes. Throughout all of the high-flying punches and flying, the creative team never forgets the purpose of the story and the inherent drama behind the Superman myth.
The acting is refreshingly awesome. Cavill has the looks to be the superhero, but he also broods deeply like a conflicted character. There's a true sense of hurt and confusion going through his head. He's a man seemingly with no purpose or background. He doesn't understand his role on Earth or his home planet. This internal anguish becomes the chief arc of the story.
Shannon, quickly becoming an A-list actor in Hollywood, plays the villain with unabashed cruelty. Zod is a man with more than silly one-liners and total destruction in his cross-hairs. Whether we buy into his argument or not, the general acts with a plan, and that's rare to find in superhero movie villains. Too often they are cookie-cutter archetypes built around some memorable physical feature like an eyepatch or tentacles. If Superman is super then his nemesis needs to be formidable and smart.
Snyder needs to be commended for pulling this gargantuan feat off. The Superman franchise was unsuccessfully rebooted a few years back with Kevin Spacey and Brandon Routh, and fans might have thought another reboot would be decades away. Thankfully, we didn't have to wait that long for the Superman ship to right itself.
By John Soltes / Publisher / John@HollywoodSoapbox.com
Man of Steel

Directed by Zack Snyder

Written by David S. Goyer

Starring Henry Cavill, Russell Crowe, Michael Shannon, Diane Lane, Amy Adams and Kevin Costner

Running time: 143 minutes

Rated PG-13 for intense sequences of sci-fi violence, action and destruction, and for some language

Rating: