'The Killing' should be renewed for a fourth season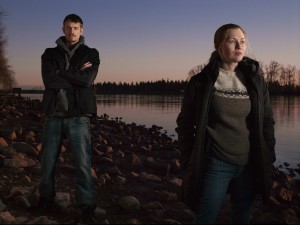 AMC's The Killing is one of the strangest shows to ever hit the airwaves. Fans have embraced the show and loathed the show. For some (perhaps many), the quest to find the killer of Rosie Larsen in seasons one and two took too long and included too many red herrings. Although there is truth behind that criticism, the first two seasons proved to be engaging television, especially compared to the humdrum procedurals that populate basic cable.
Detectives Sarah Linden (Mireille Enos) and Stephen Holder (Joel Kinnaman) are remarkably deep characters, and we have come to know their strengths and weaknesses like no other duo in recent American television history. Linden is an astute detective who gets too close to her cases and cannot find time for her son (Liam James, not a central figure in season three). Holder is a man of the street, not too far removed from the informants and suspects he talks to on a daily basis. He's also a drug addict in recovery, constantly battling his reality, perhaps putting up a humor-tinged front as a defense mechanism.
The Killing is a quiet show. There are many scenes when Holder and Linden do actual police work, meaning they sit in cars, drink coffee and talk about the case and their personal lives. The conversations, many of them written by showrunner Veena Sud, feel organic and built around themes of loss, anguish, pent-up anger. Every character on this AMC series is bruised, many times internally and externally.
Season three of the show has perhaps eclipsed the near-perfection of the first two seasons. We move away from political corruption in the mayoral race and Rosie Larsen's family and into the streets of homeless teenagers. Without spoiling the findings of the investigation (a nod to those still catching up on DVR), Holder and Linden travel the alleyways of Seattle looking for a killer preying on the less fortunate souls of the street. Linden, always teeter-tottering between skepticism and obsession, sees something deeper in the evidence. She thinks the present-day crimes tie back to a murder allegedly committed by Ray Seward (Peter Sarsgaard). Linden helped put the man behind bars, and now he awaits his public execution. But if the killer is still on the streets, could Seward be innocent?
There's so much to appreciate in season three of The Killing. Although it's unfortunate to not have Billy Campbell, Michelle Forbes or Brent Sexton around from the first two seasons, we have a few new supporting characters that more than fill the void. Amy Seimetz plays Danette Lutz, the mother of a missing girl. Hugh Dillon means business as Francis Becker, a prison guard watching Seward's final days. Aaron Douglas (from Battlestar Galactica) is the kinder guard, a person with compassion for the circumstances of death row. Bex Taylor-Klaus offers an Emmy-worthy performances as Bullet, a teenager who offers advice and confidential information to Holder. Elias Koteas is the new man in charge of homicide and also an old flame of Linden's.
With the final two episodes set to air Sunday, Aug. 4, the waiting game for the show's fate begins. Much like last year's crazy resurrection, fans are waiting to hear whether AMC will bring back the heralded series. If season three's storytelling success is any indication, there's plenty left in the tank for Holder and Linden. Now that we've seen them investigating two cases, it's obvious they are characters with room to evolve. Let's be honest: We love investigating them as they investigate Seattle. Plus, there are some characters from the first two seasons that could always return to the spotlight. Maybe season four can enter the political arena again? Perhaps there's a case that will take the detectives outside of Seattle? Maybe into Canada? Are there any cold cases worth investigating?
The Killing should not be killed just yet.
By John Soltes / Publisher / John@HollywoodSoapbox.com