'Happier than a Billionaire' looks at leaving everything for Costa Rica's pura vida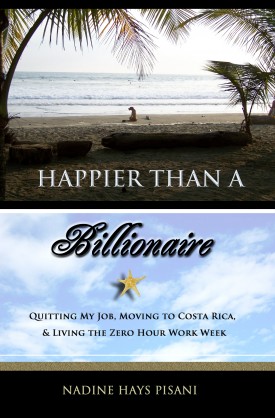 Nadine Hays Pisani's often laugh-out-loud book detailing her experiences moving from the United States to Costa Rica is an excellent beach read during the summer months. It's light fare, to be sure, but it will remind readers of other escapist literature. With easily digestible chapters, a constant sense of humor and consistent writing style, Happier than a Billionaire: Quitting My Job, Moving to Costa Rica, and Living the Zero Hour Work Week can be fun — pure and simple.
Stopping one's daily routine and moving to a more exotic locale is the dream of many prospective travelers. The open road beckons for so many, yet Pisani and her husband actually answered that calling. Upset with the New Jersey suburban life (Pisani writes that her chiropractic practice was growing tedious), the couple head south to the perceived tranquility of Costa Rica and its world-famous "pura vida" lifestyle.
After stepping foot on the natural terrain of the eco-friendly country, Pisani becomes an instant stranger in a strangeland. She has run-ins with so many obstacles — so many that the book can feel like a downer at times. There are the odd neighbors, pesky bugs, interesting new animals, exploding water pipes, bureaucracy of establishing citizenship and necessity of leaving the country every 90 days to renew one's visa. The Pisanis face everything under the golden sun of Costa Rica, and Happier than a Billionaire becomes a somewhat helpful guide on how to stay clear of their many mistakes/challenges.
It takes the author nearly 100 pages to start seeing the silver lining. Eventually, after most accomplished obstacles, Pisani can understand and appreciate the lessons learned. She moves away from typicality and depression and begins appreciating smaller things, like fresh produce, the kindness of new people in the neighborhood, the saving grace of her husband and the overall joy of focusing on one thing at a time.
Occasionally, Happier than a Billionaire grows tiresome. It runs a quick 226 pages, but the constant litany of Costa Rica's challenges doesn't add much. I'm not sure I could bear another chapter on a urinating dog. Some of the imagery is overly informal as well, as if Pisani is conversing rather than writing. This makes the prose approachable and accessible, but it also feels too fleeting and basic.
The best part of the book are two chapters describing when Pisani's parents come to visit. They make a trip to the touristy town of La Fortuna and the majestic Arenal Volcano. It's easy to enjoy this particular story because it's easy to identify with many of Pisani's feelings. Wanting to impress one's parents can be translated to numerous cultures and by many families. It's also one of the few stories in the book with a happy ending (travel books should always include the positive with the negative).
Pisani's nonfiction account is a perfect primer for readers interested in Costa Rica, at least from an outsider's perspective. It's not academic, scientific or literary. It's a quality quick read that deserves to be read on the beach with dreams of taking similar risks not too far away.
It appears overcoming the obstacles paid off for Pisani and her husband. She has already penned a second installment to the Happier than a Billionaire series. The Costa Rican "pura vida" lifestyle is apparently attainable.
By John Soltes / Publisher / John@HollywoodSoapbox.com
Happier than a Billionaire

Copyright: 2011, 226 pages

By Nadine Hays Pisani

www.happierthanabillionaire.com

Rating: