'Treehouse Master' Pete Nelson explores his own 'tree' roots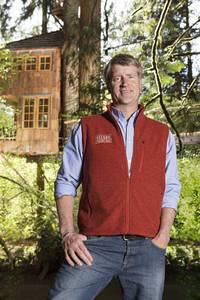 Treehouse Masters, the new Animal Planet series, follows treehouse expert Pete Nelson around the nation in his quest to find opportunities to build awesome arboreal abodes from scratch. His team works meticulously, bringing luxury and a unique style to each habitable habitat.
Recently Hollywood Soapbox exchanged emails with Nelson about the show and his history with treehouses.
How did you first get interested in treehouses?
My dad built a treehouse for me in New Jersey when I was five years old or so, but I really got treehouses on the brain when I was around age 12-15. In high school I planned my 
first adult-scale treehouse, but it was never built. In my mid-20s, the notion of building an adult scale treehouse came roaring back into my
consciousness, and they have been there ever since.
If you had to pick your all time favorite tree house, what/where would it be?
There are so many favorites. One of the most challenging ones was the Irish Cottage in a Huntington Beach, California with an olive tree. The biggest I built unfortunately burned down in the San Diego County wildfires of several years back.
What is the biggest challenge of designing a unique treehouse?
For the show, definitely the Ohio treehouse brewery build was tough. It was FREEZING!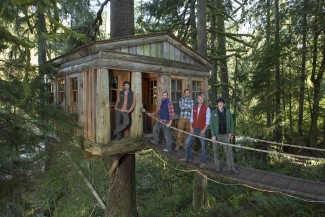 What do you say to people who think that treehouses should be rustic and simple? Some of the houses feature WiFi, big-screen TVs and luxurious amenities. Is that a tree house anymore?
It can get over the top sometimes, but if that is what my client wants, then that is what they get! In my mind, the important thing is that they are up in and among trees!
Because nature is constantly changing, are most treehouses temporary? Do you have to take into account the tree's continual growth?
Growth and Movement: These are the two main things with which one must deal in treehouse construction. It is fun to figure out how to deal with both – especially tree movement. In the end, a properly designed treehouse can last as long as the tree itself. Sometimes that is a very long time!
By John Soltes / Publisher / John@HollywoodSoapbox.com
Treehouse Masters airs Fridays at 10 p.m. on Animal Planet.