INTERVIEW: Anthony Warlow on playing Daddy Warbucks in 'Annie'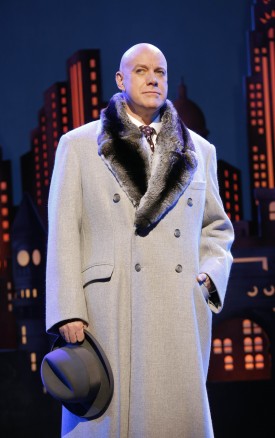 Speaking from his "man-cave" at the Palace Theatre in New York City, enjoying some time between a matinee and evening performance, Anthony Warlow sounded perfectly rested, even though he has been commanding the Broadway stage nonstop for several months.
Warlow, an accomplished Australian actor and singer, is making his Broadway debut as Oliver Warbucks in Annie the Musical, the iconic show receiving a new take by director James Lapine.
In many ways, Warlow's debut on the Great White Way is more than a decade in the making. "I've discovered since I arrived here in the U.S. … that it had a lot to do with the production I did in Australia in 2000," Warlow said during a phone interview. "Martin Charnin came to our shores to direct a production, and I was in that playing Warbucks. It was a terrific production, and one of the highlights for me in that particular period of time was that during the reading, or read-through, of the show with the cast assembled for the first time, Martin stopped halfway through and said, 'At this point in the production, we've decided to put in a song for Anthony because we've never really had a Warbucks who could really sing.' "
The chance of singing a new song penned by the original creators of Annie was a privilege. The song, "Why Should I Change a Thing" was placed in the scene where Warbucks gives Annie, an orphan he feels a strong fatherly connection to, a locket for the first time. Warlow admitted to being "quite floored and very flattered."
As soon as the Australian production placed the song in the show, a Chicago production team asked to do the same. As Warlow described it, the ink wasn't even dry on the paper yet. "I didn't realize at the time that Martin was my champion in suggesting that I play the role in the 35th anniversary production," he added.
Warlow said he believes this production and this iconic character are a perfect vehicle for his Broadway debut. First off, when audiences take their seats at the Palace Theatre, where Annie is playing an open-ended run, they'll see a Warbucks that looks fairly similar to Warlow in real life.
"When I'm at home, I play … roles like Phantom of the Opera and many opera productions where there's lots of wigs and beards and goodness knows what. But in this case, I'm really presenting myself looking like to me, apart from the costuming, which makes me look bigger than I am. But, having said that, I think it's a good way to come into the community so that audiences basically see me, short of, I have to say, the character voice that I've put on, which is very New York, and singing a little gruffer than normal."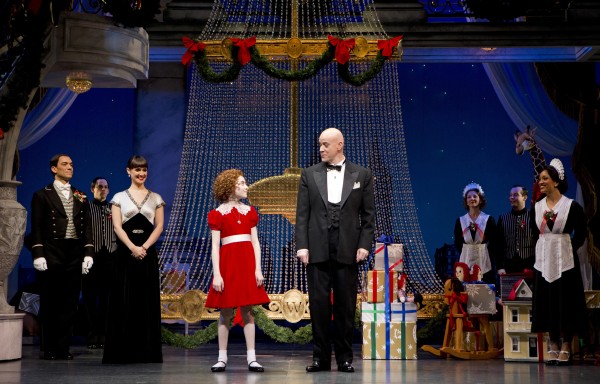 The difference between the Australia production and the New York production is quite stark. "[W]hen we were doing the show in Australia, there were certain little things that mean so much to me that kind of go over the heads of a lot of people," he said, "things like being able to associate myself as a New Yorker in this production and have jokes work and gags work, as subtle as they may be, knowing that there is an empathy with what you're saying, as if you were a native of the country."
For example, there's one part in the show where Warlow nods to the audience when Annie jokes about New Jersey. The audience, surely knowledgable of the sister state across the river, connects with the line of dialogue. "And even though that seems like a very small thing, for me to be accepted on that stage as a local within the character that I've built is really very satisfying," he said.
Warlow said he sees Warbucks as down to earth, but that characterization has not always been the case.
"When I first did this production in 2000, I didn't know much about the role. I had never seen a production of Annie. I had heard the music obviously, and I knew that there was the Broadway production that came to Australia in 1977, but that's all I knew about it. And not having at that time too much information at my fingertips, I kind of had to create my own history for the character."
For that first production, Warlow envisioned Warbucks as a self-made, educated man with a wife he adored. The "created" history for the role was that Warbucks' wife died in a boating accident on a million-dollar yacht, and something (someone) was missing from his life. "He's a bit cantankerous about it all, but in the arc of the character, he falls in love with the idea of having something in his life which reminds him of his wife and forms the family unit with grace," he said. "So that was the original idea that I had. Since then, I have discovered really the comic strips of Harold Grey, discovered that Warbucks was very, basically blue-collar, down-to-earth guy who had a wife he didn't really like, dare I say, who would bring children into the house from the orphanage as accessories for the social life."
The actor learned more of the backstory: Warbucks traveled fro months, usually on political trips. He was involved in the ironmongery field, helping to make planes, trains and automobiles for World War I (hence his last name). So Lapine, director of this new revival, asked Warlow to be more blue collar and work with a dialect coach.
"I love to impersonate and highlight and change character voices quite easily with my work, and I thought of actually giving him like a dual voice whereby when he was in his own world with everyone around him, he would be quite Upper East Side," he said. "When he was stressed or angry, he would go into the New York [accent] … the Hell's Kitchen where he was apparently born. James Lapine loved the idea until we hit the first couple of days of rehearsal, and he said, 'It's so good that we really need to keep it fairly consistent because some audience members, if they read that I'm Australian, may think he's not really going after the accent.'"
Warlow said his time these past few months have been an "absolute joy."
"And some seven months down the track now, I'm still loving every moment of it," he added. "The absolute connection with the work that every one of these people on the stage, from the backstage crew to the orchestra people, are so committed that it's a wonderful thing. And it actually keeps me particularly, and I'm sure everyone else in the production, very buoyant. It's a joy to come to work."
With Jane Lynch from TV's Glee recently taking over the Miss Hannigan role, Annie has many more suns to come out tomorrow. For Warlow, that seems perfectly fine. "I certainly am getting a lot out of it," he said. "The embracing quality of this wonderful community has been very, very flattering to me. I feel very at home here."
By John Soltes / Publisher / John@HollywoodSoapbox.com
Annie is currently playing at the Palace Theatre in New York City. Click here for more information.