First masterpiece of 2013, 'The Place Beyond the Pines' enthralls with talented cast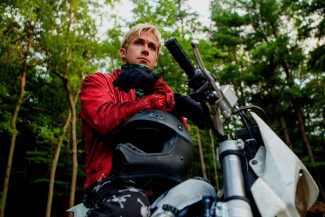 Derek Cianfrance's thrilling new drama The Place Beyond the Pines is easily the best movie of 2013 so far. Featuring electrifying performances from Ryan Gosling, Ray Liotta, Emory Cohen, Bradley Cooper, Eva Mendes, Dane DeHaan and Ben Mendelsohn, the movie reminds audience members that mastery is possible at the cinema. Convoluted story lines, complex characters and an invigorating rhythm is hard to find among Hollywood's blockbusters. Cianfrance, who co-wrote and directed, decides to cut against the grain, producing a work that seems ripped from the glory days of 1970s cinema. The Place Beyond the Pines feels like a Coppola flick, or maybe an early Friedkin. It has a reckless, daring abandon.
Gosling plays Luke, a down-on-his-luck motorcyclist who performs in a traveling circus. He chain smokes and has enough tattoos to never fit in with the crowd. He offers the aura of a dangerous person who has done time in jail, yet never learned his lesson. Interestingly, he mostly acts like a teddy bear — mostly.
While in an upstate New York town, Luke meets up with Romina (Mendes), an old fling who introduces the motorcyclist to his baby boy. Suddenly slapped with maturity, Luke quits the stunt show and devotes his time (he has no money) to Romina and the kid. The problem is that Romina has already moved on with her life, and she had fully intended for her new live-in boyfriend to take care of the infant.
It's now up to Luke to win back her heart and prove that he can be a dependable father. He moves into a trailer owned by Robin (Mendelsohn), a funny good guy with bad tendencies. He teaches Luke the art of robbing banks, and the two start ripping off branch locations in the local area. Like Robin Hood, Luke only wants the extra money for his son, but this will surely end badly.
The other characters are introduced as the plot fast-forwards through multiple story lines. Cooper plays a local police officer, and Liotta is a corrupt colleague on the force. They enter Luke's life in startling and unexpected ways.
Cianfrance, responsible for the exquisite Blue Valentine, which also stars Gosling, knows how to thread the story from a solitary character (Luke) into a complex web of acquaintances. There's a touch of Robert Altman and Quentin Tarantino within these two-and-a-half hours, but the inspiration never feels pushed. Cianfrance has created an original drama through and through. He has a way of letting silences and carefully chosen lines of dialogue carve out his characters. Luke only needs to drag on a cigarette, lean against his motorcycle and we're able to sum up his intentions. Listen for the banter between Luke and Robin; it's so organic and easygoing that it feels like improvisation.
The younger actors, DeHaan and Cohen, are able to stand right next to their more accomplished counterparts with ease. There's not a weak link in the cast; every actor finds the hurt and anguish of the dramatic material. It's so real that audience members will go back and forth between loving and hating these creations. I would never have thought sympathizing with a bank robber was possible.
Gosling and Cooper are quickly becoming Hollywood royalty, and for good reason. Gosling is a chameleon in his well-chosen film projects (Drive, Blue Valentine), while Cooper slips subtlety behind his seemingly good-boy looks. Watching these two actors play characters under pressure is engaging and worth every minute of our time. Mendes, an underused actress, has the toughest part, mostly because there's so much pain embroiled in her soul. It's a credit to the accomplished performer that Romina can carry so much dramatic weight on her shoulders, and still prove believable.
This one is near-perfect. The Place Beyond the Pines should be remembered come Oscar time, even though it won't.
By John Soltes / Publisher / John@HollywoodSoapbox.com
The Place Beyond the Pines

Directed by Derek Cianfrance

Written by Cianfrance, Ben Coccio and Darius Marder

Starring Ryan Gosling, Bradley Cooper, Ray Liotta, Eva Mendes, Emory Cohen and Dane DeHaan

Running time: 140 minutes

Rated R for language throughout, some violence, teen drug and alcohol use, and a sexual reference

Rating: