INTERVIEW: On the edge of the world, Sue Aikens lives 'Life Below Zero'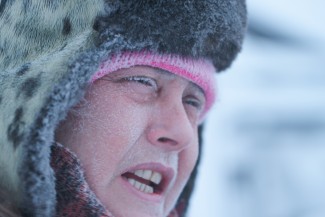 Susan Aikens, subject of the new National Geographic reality series Life Below Zero, is living a life most people either dream of or completely fear. Amid the rugged Alaskan wilderness, she holds court over Kavik River Camp, with no neighbors except the wild animals in the area. She's far, far from humanity, in a place where she recognizes her spot in the food chain.
Recently Hollywood Soapbox exchanged emails with the new reality star about her unusual life at sub-zero temperatures. The show premieres Sunday, May 19 at 10 p.m.
Living that far north of the Arctic Circle, in relative isolation, do you have more or less time to think about life's big questions?
Well, firstly, there is no "relative isolation." It is isolated, period. Life … it doesn't have questions, it has answers. I have as much or as little time to seek and look at life's offerings as I choose. That's the beauty of it isn't it? I get to choose. If I feel like digging for fossils for an entire day, just to see what things were like millions of years ago, I get to do that. My sandbox, my rules. Do I ponder the meaning of life? Not really. Not my bag. I accept that life is what it is, and will throw as many challenges my way as it can. My job and my passion is to recognize those challenges and overcome them, or succumb to them. (Okay, succumbing is for weenies, again … also, not my bag.)
What is the biggest misconception about your life at the Kavik River Camp?
The biggest misconception is that I am lonely. I don't get lonely, I do, however, register that I live alone. There is a huge difference in that. I find myself highly entertaining and amuse myself endlessly, so, no, I do not often feel the emotion of loneliness. I have grown comfortable and secure in who I am and what part of the food chain I represent (nowhere near the top).
The other misconception would be that I am running away from something. Sometimes we separate from the herd not to run away, but to run toward. I have managed to run toward a life where I get to call the shots … I accept that I am a food group and that every little comfort I possess or achieve is done on my own terms, not some corporation's and government's charity. I run toward the challenges in my life, not away from them.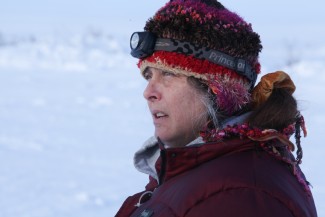 Logistically, what are some of the toughest challenges for you on a daily basis?
Overall, the weather would be one of the greatest challenges. It is something you have no control over, and like the saying goes. "If you don't like the weather, wait five minutes or fly five miles … it'll change." From storms that suddenly appear with winds close to 100 mph and temperatures near -100°F to fog that makes visibility nil and hampers planes and workload performance … weather is king out here. Logistically, I have to get all the supplies by the end of September that will last me until the following June. I typically will not see another person in that timeframe, so planning well is a must.
But on a daily basis? I don't think like that. I guess it would be a challenge for most that there is no task you perform on a daily basis that you do without the pistol on your hip, or without peeling your eyes away from the horizon. I am not the top of the food chain here, and I must never forget that. I don't see that as a challenge, though; it is just a fact. Long ago I accepted that I may be bear poop any day. Once you accept that fact, you obtain a good measure of freedom.
Are there ever times when you consider leaving Kavik River Camp?
If my family ever needed me more than I needed my freedom and wilderness, then yes. When you become a parent and grandparent, that is for life. Not 18 years. Do I ever dream about leaving Kavik? Nope. I will always wonder what is over the next hill. What would seeing the Great Barrier Reef feel like? Would they take a fat 50-year-old up to the moon? Pretty shiny things interest me, and one day I will mentally go "SQUIRREL!" and wander into my next exploration. True explorers tend to get consumed by that which they are currently exploring, but there is oh so much more out there. I feel that it is my job to explore. It is the job of the next place to intrigue me enough to do so.
What's the most alluring aspect of your life—are you living up North because of the wildlife, Kavik, a chance to be independent? Has this changed over time?
Like the saying says, "I'm out here … 'cause I'm not all there." I have always felt an affinity with the wildlife. I understand it. You always know exactly what the relationship is with an animal, or the tundra. No mystery. A bear wants to eat you, you don't want it to … pretty simple. People, however — not so clear there. A person can smile, befriend you, all the while whispering and condemning you behind the scenes. Political turmoil abounds. You would never see two grizzlies appearing on your television screen slurring each other's pasts in an effort to be the alpha grizz. Can you say that about a presidential campaign? Yikes! Humans waste a huge portion of their lives pointing fingers and enveloping themselves in drama, all the while the little grains of the sands of time are dropping, and less time is left for playing and giggling. The allure of the area is that I never have to grow up unless I want to. I can sing silly songs off-key and pick wildflowers for my table, and no one docks my pay packet. I can hunt for my own meat and never ask if it has growth hormones or a price hike making it unaffordable. If I fail at hunting and getting my heating oil, it is no one's fault but my own. No finger pointing at a bloated government or recession. If I fail, there is a permanent consequence. I kick my own ass, and then try a little harder. Failure is NOT an option — and I like that. Throw the worst you can at me: THAT makes me smile, set my eyes and grin while I come at the challenge. MY sandbox. MY rules. And if I don't win? Well, none of us get out of this alive, do we? I'll go down with fire in my eyes and one helluva legacy for the kids.
By John Soltes / Publisher / John@HollywoodSoapbox.com
Life Below Zero premieres on Nat Geo Sunday, May 19 at 10 p.m.