This caveman says 'The Croods' good entertainment … ARGH!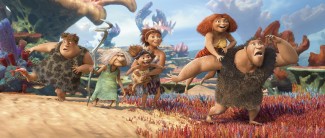 The Croods, the new animated film from directors Kirk De Micco and Chris Sanders, is a blast from start to finish. The caveman-family comedy is able to tell an adventurous tale without dumbing down its plot or characters. Children and adults should enjoy the shenanigans of Grug and company, and this deservedly earns the title of "Best Family Film" of the year so far.
Nicholas Cage voices Grug, the father of a cave family who fears everything about the world. He's watched his neighbors lose their battle with the ferocious wildlife in the area, so he keeps a close eye on his wife Ugga (Catherine Keener), teenage daughter Eep (Emma Stone), son Thunk (Clark Duke), infant baby Sandy (Randy Thorn) and mother-in-law Gran (Cloris Leachman). Well, he probably wouldn't mind of Gran was eaten by a saber-tooted tiger. Everyone in the family follows Grug's orders — everyone except Eep, who refuses to live a caved-in life. She wants to explore the world and see new places.
Grug's insular ways are put to the ultimate test when the world begins to change right beneath the feet of the Croods. The ground is beginning to crack, and it's up to the family to find a new home.
The Croods knows exactly what messages it wants to convey. Father-daughter issues lead Grug to reevaluate his fears and Eep to appreciate her father's protection. It's a story of letting children grow up and respecting where a person comes from. The journey to these answers is so delightful to watch. The Croods utilizes a unique animation style, with many of the images popping off the screen. The movie runs a quick 98 minutes, and several of the scenes are action-packed races through hostile terrain. The visuals can be beautiful and dizzying.
The screenplay by Sanders and De Micco, working off a story they wrote with John Cleese, is imaginative and hilarious. I'm not sure I've laughed as hard at any other comedy this year. The one-liners, especially from Grug and Gran, are worthy of chuckles. Even when the sentimentality hits its sappy highs, the family keeps it light and funny. Who doesn't love a deadly infant who strikes fear in every other family member? Who doesn't love an aging grandmother whose mission is to annoy her son-in-law until she finally kicks the bucket?
The Croods' voice talent is surprisingly stellar. Cage, who would not have been my first choice, strikes the right balance between fatherly and brutish. Leachman is her usual irascible self, and Keener offers a calmer portrait of the mother figure. Ryan Reynolds as Eep's love interest, Guy, is a little unnecessary, but Stone plays a great tomboy with aspirations of taking over the cave family herself.
The movie feels so right that it's easy to overlook any faults. I'm not sure one is capable of enjoying animated flicks if one can't enjoy The Croods.
By John Soltes / Publisher / John@HollywoodSoapbox.com
The Croods

Written and directed by Kirk De Micco and Chris Sanders; based on a story by De Micco, Sanders and John Cleese

Starring the voice talents of Nicholas Cage, Catherine Keener, Cloris Leachman, Ryan Reynolds, Emma Stone, Clark Duke and Randy Thorn

Running time: 98 minutes

Rated PG for some scary action

Rating: