'White Elephant,' a searing portrait of a Buenos Aires neighborhood finding itself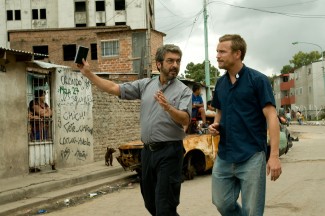 Pablo Trapero's powerful new film, White Elephant, is a drama in the same vein as City of God. Its complex characters face seemingly insurmountable obstacles, and watching their triumphs and failures makes for enticing cinema.
Ricardo Darín plays Father Julián, a beloved neighborhood staple in an impoverished section of Buenos Aires. The Catholic priest needs to deal with deadly tribulations on a daily basis. His baptisms and service efforts for the community are hijacked by gangs and bullets. He watches the young men of his parish turn away from God and take up arms. This is a war movie in the modern sense.
The newcomer in the parish is Julián's friend, Father Nicolás (Jeremie Renier), a younger man who is given the unenviable task of playing Robin to Julián's Batman. The two priests' main goal is to help the community complete a large development project, nicknamed the White Elephant. Aiding them in this endeavor is Luciana (Martina Gusman), who isn't Catholic but willing to work with the church to fulfill her social goals. This trifecta of peace tries its hardest to change the forgotten alleyways of Argentina's capital.
Along the way, Julián's leadership is tested, Nicolás' celibacy is questioned and Luciana's determination begins to crack. The script, written by Alejandro Fadel, Martín Mauregui, Santiago Mitre and Trapero, is epic in scope. We see this neighborhood through the eyes of the missionaries, which personalizes the action, but the problems are widespread. The screenplay never cheapens the plot or rushes the story. Instead, everything is given time to breathe and evolve. Relationships are built up and crumble. Gang violence takes to the street, subsides and then reemerges. The actions of the police are varied and unpredictable.
The one constancy throughout the movie is this unending yearning for the horizon, this doomed expectation that the White Elephant may be the answer to all of society's problems. Julián, Nicolás and Luciana keep running the marathon, wondering when their race will be ever finish.
Trapero is an important director who knows how to keep the audience's interest for nearly two hours. The scenes in White Elephant feel authentic and visceral, as if they bleed off the screen. Parallels to City of God are obvious, but there's also a sense of the religiosity of Graham Greene's The Power and the Glory. It's that good, and it deserves to be mentioned among the best of foreign cinema. Quite simply, White Elephant is a modern classic.
By John Soltes / Publisher / John@HollywoodSoapbox.com
White Elephant

Directed by Pablo Trapero

Written by Alejandro Fadel, Martín Mauregui, Santiago Mitre and Trapero

Starring Ricardo Darín, Jeremie Renier and Martina Gusman

Running time: 109 minutes

Not Rated

Rating: