Cirque du Soleil's 'Totem' journeys through evolution
NEW YORK — Robert Lepage and Cirque du Soleil seem like a perfect fit. The director brought an unbelievable enormity to Cirque's Ká in Las Vegas, and he repeats much of that success with Totem, which is currently playing an extended run at CitiField in New York City. It's not the best of the touring shows from the Canadian circus company (I'm quite partial to Kooza and Ovo), but there's no denying its artistry and acrobatic skill.
Audiences sit around a thrust stage under the Grand Chapiteau tent, so almost all vantage points are optimal. An enormous turtle takes center stage, only to be replaced by a group of performers swinging from a skeletal frame of bars. They use a well-placed trampoline to gain some height, and within the first few minutes, Totem's life source is unleashed.
The narrative structure, which involves evolution, is loose. A performer in a sparkling leotard seems to be a stand-in for life itself, but who has time for story when there's so much physical wonderment to enjoy.
From the turtle bars to a hoops dancer who calls to mind the traditions of the American Indian, Totem seems like a combination of cultures. The hoops dancer is so skilled that Lepage and his creative team bring him out for a second display. He somehow is able to juggle and intertwine hoops as if he were shuffling a deck of cards. He steps in one and wraps another around his head, and then a few shakes later, he has five of them seemingly laced around every part of his body.
The high-flying rings are always an impressive feat, earning the required "oohs" and "aahs" from the audience. The real spectacle — and by far the best act — is the unicycles and bowls routine that ends the first act. Five performers, bedazzled in makeup and costumes, balance bowls high atop unicycles. They ride back and forth while simultaneously lobbing and catching the bowls with their hands, feet and heads. It's one of the best Cirque acts I've ever seen (and for the record, I've seen the following Cirque shows: La Nouba, Varekai, Wintuk, Zarkana, Kooza, Ovo, Iris, Ká, Criss Angel: Believe, Zumanity, O, Love, Mystere and Viva Elvis).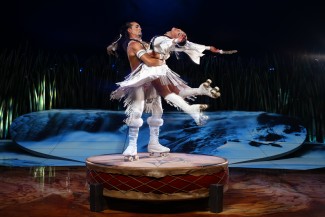 The foot juggling in the second act continues the balancing skill, while a roller skates routine will certainly generate "I hope he doesn't drop her" winces. One of the most effective performers is a juggler who sends objects circulating around a clear container. The "manipulator" looks like a mad scientist at work in a laboratory, and at the performance I attended, he didn't drop one ball.
The finale of Russian bars is quality entertainment, although other Cirque shows have better finishes (no wheel of death?). The clowns in the show, all centered around a performer offering a stereotypical Italian characterization, are fun to watch and serve their purpose as transitions between acts. One scene involving a rowboat and fisherman is the best.
After two and a half hours of high-flying artistry, it becomes clear that Totem is a superb show that is only imperfect when compared to other Cirque creations. Evolution has never looked more colorful and more unbelievably dangerous.
By John Soltes / Publisher / John@HollywoodSoapbox.com
Totem

Directed by Robert Lepage

Running time: 2 hours, 30 minutes

Currently playing under the Grand Chapiteau in the parking lot of CitiField in New York City. Click here for more information. The next stop is the Philadelphia area.

Rating: