'Limitless' gives us full access to the mind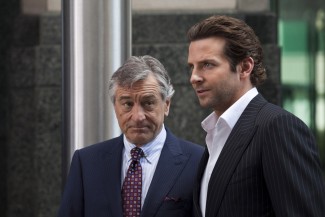 Limitless, the engaging thriller from 2011, features one of Bradley Cooper's finest performances. The star of Silver Linings Playbook showed signs a couple of years ago of leaving his Hangover past behind and venturing into more dramatic territory. Limitless is that step in the right direction.
Cooper plays Eddie, a down-on-his-luck guy who struggles as a writer and can never find that "normal" life. He's living in New York City, and his girlfriend (Abbie Cornish) has just left him. There's nothing left in this life — that is, until he decides to take an Alice in Wonderland trip with a few magical pills. Eddie is pushed some drugs that promise to open his mind to its fullest capability. Imagine accessing all the power of your brain.
Eddie wants in.
The resulting euphoria makes him a better man (seemingly). He's able to speed through his novel at a lightning pace, and he's gained a new outlook on life. Watch out financial experts, Eddie is here, and his brain is ready to figure out the rhythms of Wall Street.
In this Philip K. Dick-like story, all can't be positive. The catch to taking these little pills is that others want in on the action. Eddie's triumphant rise to the top of Manhattan attracts the attention of a competing financial leader (Robert De Niro) and some nefarious bad guys. Will the drug protect him from the paranoia? What happens if the prescription runs out?
Although the movie is based on a novel by Alan Glynn, it comes off as being in the same vein as The Adjustment Bureau and other Dick cinematic adaptations. There's no denying that Glynn's story and Leslie Dixon's screenplay are original and invigorating, even when some material seems overly inspired by the master of heady sci-fi. Director Neil Burger keeps the pace going a mile a minute, similar to Eddie's new mind. There's almost no time to breathe.
Cooper is perfect in his central role, allowing us to both love and hate his character. We feel bad for his predicaments at the beginning of the story, but we're also revolted by his cutthroat ascension. Yet deep down, we're rooting for his success. De Niro is well suited as the adversary — a small role that lets the veteran actor enjoy a few scenes of cunning skill.
The movie never falls apart, although after watching Eddie's rise and fall, it becomes clear that the entire narrative doesn't add up to much. It's enjoyable to see the effects of these magic designer drugs, but the movie is lacking in context. Someone like Quentin Tarantino or the Wachowskis would add an extra 30 minutes for some existentialism. Alice in Wonderland is a fun tale by itself, but with a dose of self-reflection, it becomes truly inspired.
By John Soltes / Publisher / John@HollywoodSoapbox.com
Limitless

Directed by Neil Burger

Written by Leslie Dixon; based on the novel by Alan Glynn

Starring Bradley Cooper, Robert De Niro, Abbie Cornish

Running time: 105 minutes

Rated PG-13 for thematic material involving a drug, violence including disturbing images, sexuality and language

Rating: