INTERVIEW: Steven Van Zandt on his new Broadway show featuring the Rascals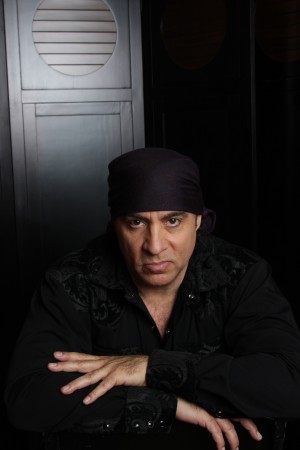 Steven Van Zandt may be the closest thing the world has to a true Renaissance man. The legendary guitarist of the E Street Band has touched many lives in the music business, whether it's shepherding new voices on his radio shows, helping Southside Johnny and the Asbury Jukes in the 1970s or convincing old acts to meet new crowds. He's even a bonafide TV star; the Sopranos alum is currently starring in, co-producing and co-writing Lilyhammer, a Netflix original series.
Now he can add a new bullet to his résumé: an against-all-odds revivalist.
This month, Van Zandt will premiere his new concert experience on Broadway starring the original members of the seminal rock band the Rascals. Called The Rascals: Once Upon a Dream, the show will play 15 performances at the Richard Rodgers Theatre, beginning April 15. Bringing together this successful rock band is a gargantuan feat. With only a few notable exceptions, the band, featuring Dino Danelli, Eddie Brigati, Felix Cavaliere and Gene Cornish, had become lost and somewhat forgotten, going their separate ways with seemingly no opportunity to reform. The songs lived on, but memories of those who performed them faded.
Then Van Zandt stepped into the picture.
"It started three years ago now," he said recently during a phone interview.
Van Zandt and his wife Maureen were set to be honored at a local cancer benefit. Rather than stick to the usual playbook, Maureen suggested reuniting the Rascals for the event. "I had tried previously and not succeeded," he said. "But every five years or so, we gave another try. And she said, 'This is about that time again.' So I called up, and sure enough they were ready to do it. And we did quickly three days of rehearsals, and they did an hour-long set privately, you know, for the fundraiser. And it was amazing, and from that moment on, I said, 'You know, we got to find a way to keep this together.'"
From those early stages, Van Zandt knew that a typical reunion tour would not be enough. It's become almost cliche for an old act to find new energy, team up with a concert promoter and head out across the United States. Van Zandt thought the Rascals had an interesting story to tell and that the band's importance had been forgotten over the years. He wanted something different.
"I mean people obviously remember the songs when you have that many hits and three number one records," he said. "They have familiarity with the songs, but never really knew their place in history or their story. So I wrote a show that talks about that. We wanted to do a hybrid kind of a show where they actually do a concert for real. No lip-synching. No melodies. The real thing, but in between we filmed them telling their story, and we have some actors portraying them as well."
The acting performances accompany a psychedelic light show on a massive screen almost suited for an arena show (designed by Marc Brickman, who is credited as director and producer with Van Zandt). "I've never see anything quite like it. But it's very satisfying both as a concert and as a show."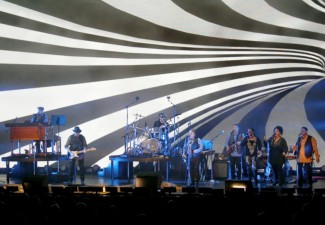 After a pre-Broadway run at the Capitol Theater in Port Chester, N.Y., Van Zandt and his team found that the Richard Rodgers was open for a few weeks following the run of Scarlett Johannson in Cat on a Hot Tin Roof. So from Tennessee Williams to "Groovin'," "Good Lovin'," "People Got to be Free" and "It's a Beautiful Morning," Once Upon a Dream will walk the fine line between nostalgia and novelty.
"Our production is so big that it actually didn't fit everywhere," Van Zandt said. "So we got very lucky getting the perfect theater for it. There's no sightline problems whatsoever. Every single seat literally is a great seat, and now we're very close to selling it out for 15 shows."
Working with the four-person band went smoother than most people might think. The rule for rehearsals: "Let's not dwell in the past." Van Zandt wanted everyone to focus on the music. Playing 28 songs is probably "twice the amount of songs that they've ever done," he added. "Many of which literally they've never done on stage even back then. So there was a lot of learning. There was a lot of learning to do and a lot of, you know, just work. So I try to keep the emphasis on that, and, you know, basically everybody just said, 'How are you doing? How's the family?' And that was the extent of the conversation."
Van Zandt said there was no problem with arguing or debating the issues of the past. He also said there was no single incident that broke up the Rascals. "It just kind of fell apart, which we addressed in the show, by the way. We don't avoid the subject. We actually talked about it. But it was not that difficult, in the sense of the past disagreements. We just made a point to avoid the subject entirely, and, you know, let's not renegotiate the past. Let's just look forward, and that's what we did."
For Van Zandt, spearheading this theatrical project is one of those rare full-circle moments. The Rascals, after all, were the first band  he ever saw live. It was the Keyport Roller Drome in Keyport, N.J. Van Zandt seems to remember it almost like it was yesterday.
"It was actually a battle of the bands, and the winner of the battle of the bands opened for the Rascals that night," he said. "So it was very, very exciting — really one of the most exciting nights of my life."
New Jersey concertgoers adopted the Rascals as a "Jersey band," even though only two of the members were from the Garden State. Still, their association with New Jersey was profound. The Rascals held their first residency in Garfield, N.J., and their Jersey roots inspired Van Zandt at a young age.
"A very big impression was made immediately," he said. "They were fantastic."
The success of the band, Van Zandt said, has to do with the trends in popular music in the 1960s. "The entire British invasion and everything that we were hearing in the mid-60s was basically white kids imitating black music," he said. "The British guys, of course, were twice removed — first by being white, and secondly by being English. The Rascals were just one stage removed by being Americans. … Most white guys back then just stood there and played, and that's all we really asked of them. We didn't really expect much more."
The Rascals, with Brigati as front man, moved around the stage and danced to their tunes.
Van Zandt even said that the Rascals heavily influenced the E Street Band — and that influence continues today. "You can directly hear the influence of the Rascals' blue-eyed soul in what we're doing right now. So it's a direct influence and probably never more so than this tour we're doing right now actually."
Because of other commitments, Van Zandt has taken a brief break from Bruce Springsteen and the E Street Band's global tour, but he plans on joining again later this year. The musician enjoys this international juggling act: actor, Broadway producer, guitarist for one of the most well-respected bands in history.
"The minute I joined the E Street Band, I was already managing and producing and writing for Southside Johnny and the Asbury Jukes," he said. "So it was sort of a combination of things immediately. And I tend to like that. … I'm better when I'm doing more than one thing. When I do one thing, I tend to overdo it."
The common thread through most of his projects is passing on the musician's torch to those bands unable to find similar success. His is a life of giving back — whether it be with the Rascals or his radio shows. "There's no infrastructure out there to support new bands, which is why I started the radio show in the first place," he said. "I wanted to create that first piece of the puzzle that would be a new infrastructure to give them airplay as well as establishing higher standards than normal radio is doing right now. You can't really hear the greatest rock 'n' roll ever made on the radio, except on my show or my Sirius/XM station. You're just not going to hear it. You're not going to hear Little Richard. You're not going to hear Jerry Lee Lewis. You're not going to hear the Duprees or the Chiffons or early Beatles, Stones, Who, Kinks, Animals. You're not even going to hear the Ramones or the Clash for that matter.
"There needed to be a station that established the Renaissance music of the '50s and '60s and part of the '70s, so to make it accessible for young people. So they have ambition. So they can have a goal to shoot for. If you don't hear greatness, how can you possibly aspire to it?"
On the new front, Van Zandt has introduced approximately 500 bands, including the Hives and White Stripes. On the resurrection front, he's focused on bringing the Rascals to audiences both old and new.
"Yeah, we really do want to take [the Rascals] on the road because this group is a national group," he said. "I know there's millions of fans out there still, waiting for them and haven't seen them literally since 1970. And I think for young people it's going be a very fun show to see, because most young people I talk to look back on the '60s like they're talking about Oz. You know, I mean it's some paradise lost that they all wish they had experienced. So you're going to get a real taste of the '60s with this show."
By John Soltes / Publisher / John@HollywoodSoapbox.com
Click here for more information.