'Dark Skies' finds a family running from unseen terror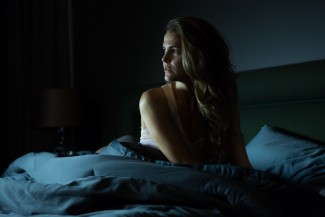 Just because the trailer gives away almost all of the scares doesn't make Dark Skies a bad movie. In fact, the horror tale is one of the strongest releases of 2013 so far.
Keri Russell and Josh Hamilton play a married couple living a fairly charming life in the suburbs. Everything is so bucolic. One of their two sons (played by Dakota Goyo and Kadan Rockett) is even late for a family BBQ because he's too busy playing video games at a friend's house — how painfully benign. What's on the menu? Cheeseburgers, soda pop and potato chips that go crunch — all on a checkered picnic table. And if you're lucky, maybe you'll get some ice cream.
You get the picture.
But underneath the veneer is something darker. Dad doesn't have a job. Mom's feeling a little nutty. What are the sons doing when they're away from their parental protection?
As with all horror movies that plague suburbia, the Barretts find their peaceful life invaded by something terrifying and haunting. What exactly is this force of evil should remain a secret, but it certainly wreaks havoc over the film's hour-and-a-half duration.
Scott Stewart, responsible for the abysmal Legion and the semi-enjoyable Priest, smartly stays away from religious thrillers and spins a yarn that is pure Rod Sterling. The entire premise feels like an elongated episode of The Twilight Zone, but there are other influences as well. Add in a touch of The Strangers and Paranormal Activity, and you have the perfect ingredients to make up Dark Skies.
The movie only trips up by trying to tie together too many loose ends. In these supernatural dramas, it's best to leave information unexplained. We may be a culture in need of catharsis, but the brave films are those that keep us wanting more. This means that the entire J.K. Simmons character, who invades the plot line later in the story, never fits perfectly into the film. He's that conspiracy theorist that we've seen in countless other features (Insidious is one of the most recent examples). We don't need a character to fill in the blanks and offer subtext to what we just saw. This "outsider expert" phenomenon can probably be blamed on Tobe Hooper and Steven Spielberg who introduced the scary medium in Poltergeist.
Dark Skies features dedicated performances from Russell and Hamilton. They smile their smiles and enliven their married-couple conversations. Even when the script feels stilted, they stay true to their characters. It is extremely believable that they love their sons and will do everything in the world to protect them from what's outside the home and what's inside.
The movie doesn't reinvent the wheel, and it takes few risks. Yet it feels like an expert study in the horror genre. It follows a well-worn guidebook and pulls off a decent storyline. There was more than one instance when I jumped from an unexpected scare (the few times when the feature film strays from the trailer's spoilers). More than anything else, the movie left me emotionally spent and dizzied from the intensity — two hallmarks of a horror movie done well.
By John Soltes / Publisher / John@HollywoodSoapbox.com
Dark Skies

Written and directed by Scott Stewart

Starring Keri Russell, Josh Hamilton and J.K. Simmons

Running time: 97 minutes

Rated PG-13 for violence, terror throughout, sexual material, drug content and language — all involving teens

Rating: