Holland Taylor is powerful as Ann Richards in one-woman Broadway show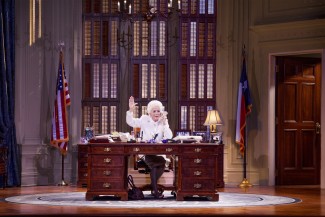 NEW YORK — Ann could have easily become like so many other biographical sketches that hit the Broadway stage. You know the routine: The lights go down, the curtain rises and we're treated to historical chapter headings for 90 minutes. The structure of one-person plays has become so rigid that there almost no surprises.
Ann still follows the rulebook, but thanks to Holland Taylor's anchoring performance, the evening elevates to a higher transcendence. Taylor not only looks the part, but she pumps some fire into this theatrical portrait. It's easily the best performance of the current Broadway season.
Richards, who served as governor of Texas, was an American original. In a political arena dominated by Republican men, she proudly planted her feet. She became an icon of women's rights, and throughout her career, she never forgot her Texas roots.
Taylor, from TV's Two and a Half Men, uses the firebrand energy that so defined Richards and offers it on the large stage of the Vivian Beaumont Theater, where Ann is currently playing an extended run through September. At times, it feels like this Richards will walk into the audience and scold latecomers. Taylor is so into the role that it never feels like a performance, just simply a continuation of Richards' life. Benjamin Endsley Klein directs the evening with a gentle care, in order to make Richards' stories never feel stale.
The premise for the play is that the former governor needs to offer some words at a Texas commencement ceremony. That clever device allows the political figure to recount her life, staying mostly on the positives and never detouring into self-criticism. Taylor, who also wrote the play, is an obvious fan of Richard's. Her words are carefully chosen, and they make the Texas governor appear in an exultant light. Lifelong struggles become throwaway one-liners. Partisan battles become mere hillocks on a longer journey. A lost election (to future president, George W. Bush) is a passing aside. This is a two-hour evening light on pathos and heavy on smiles. Richards wants to fondly remember her years of service, allowing herself the freedom to speak her mind.
Taylor's physical performance is marvelous. Her wig and makeup perfectly capture Richards' iconic image (Molly Ivins said the governor had "Republican" hair). But beyond the look, Taylor also nails the accent and overall sensibility. She paces back and forth on the stage, accentuating her points with dirty humor, arched eyebrows and that uncanny way Richards was able to make her audience laugh, think and then laugh some more. The governor was a champion for her causes, sidestepping the frills of public office and retaining her identity in the halls of the state capital. For example, during the play, she has a running gag with Bill Clinton (whom she rarely calls Mr. President).
Taylor smartly breaks from the commencement exercises (which feel too restrictive for this big personality) and lets us see Richards at work in her governor's office. The monologue that materializes is exquisite. By watching Richards in her element, we're able to understand (and for some audience members, appreciate) her dedication to the gargantuan and the miniscule. She takes phones calls from her children, debating the menu options for the upcoming weekend BBQ. She then takes another phone call that may result in a stay of execution for a convicted murderer. She never breaks a sweat.
Ann should not be categorized as another one-person biographical sketch. Taylor has made the words of this politician vital and lively, even if audience members completely disagree with the politics. The only thing holding the evening back from perfection is the absence of an alternative voice. But, after all, this is Ann's night. Would we expect anything else?
Someone call up the Tony Awards. This show has Best Actress in the bag.
By John Soltes / Publisher / John@HollywoodSoapbox.com
Ann

Written and performed by Holland Taylor

Directed by Benjamin Endsley Klein

Running time: 2 hours

Currently playing at the Vivian Beaumont Theater at 150 W. 65th St. in New York City. Click here for more information.

Rating: