INTERVIEW: Milt Larsen looks back on 50 years at the Magic Castle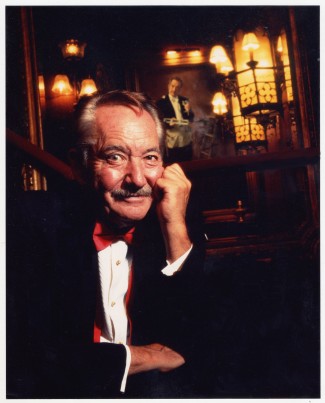 Milt Larsen has 5,000 children, and he's liable to pull a quarter from behind their ears at any second.
One of the most influential figures in the history of magic, Larsen and his wife actually don't have children of their own. But he counts the roughly 5,000 members of the Academy of Magical Arts as his kin. And like an understanding father, he lets them frequent his house — better known as the Magic Castle, an unusually attractive mansion from 1910 that sits in the middle of Hollywood, Calif., and houses the Academy.
Recently the Magic Castle celebrated its 50th anniversary, and the institution is perhaps stronger than ever. Neil Patrick Harris, of How I Met Your Mother, serves as the Academy's president, and hip director McG is planning a feature film about the Magic Castle. Throughout all the success, Larsen, 81, sits like a proud papa, welcoming his children to the building that's become a second home for him.
"How about that? Fifty years. Usually in Hollywood nothing [lasts] 50 years," Larsen said during a recent phone interview.
The Academy of Magical Arts actually doesn't own the Magic Castle, which is located at 7001 Franklin Ave., not too far from Grauman's Chinese Theatre. "We actually lease the building and the property, and that's because we're on a hill in Hollywood," Larsen said. "You know most cities don't have a hill in the middle, and the hill itself is owned by a family estate. So all these years, for the last 50 years, we've had a wonderful lease agreement. … I made a deal with Tom Glover over 50 years ago and said, 'You know, you've got this crazy old mansion in Hollywood. And I think it'd be kind of a cool idea to make it into a magician's club.' Because it looked sort of like a Charles Addams cartoon. You know a nice old haunted house always looks great."
It has been magic history ever since.
Choosing a highlight from the last 50 years is a difficult, if not impossible, task for Larsen. He characterizes life at the Castle as a party every night. "And I get to go to the party and have a great time, meet all my magic friends," he said. "But I guess the highlight would be just, you know, I'm the kid in a candy store. I'm just enjoying myself all the time and hanging out with my magician friends and my non-magician friends. It's a pretty good life."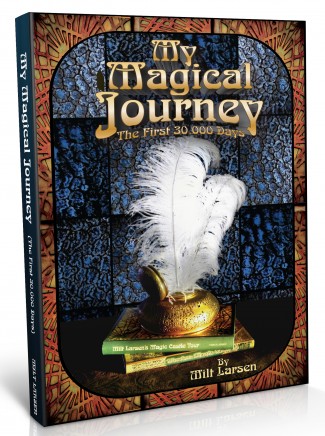 Of the many side projects that Larsen is involved with — he's also the author of a new book, My Magical Journey: The First 30,000 Days — he seems quite excited for the upcoming movie. Few details have emerged, but production is set to begin soon. Larsen said it will be directed by McG, whose previous credits include This Means War, Terminator Salvation and the Charlie's Angels reboots. Larsen characterized him as "one of the hottest directors in town."
"[I]t's an action, family-oriented movie," he said. "And the theory is: What would happen if you were in this Magic Castle and kind of get lost and discover maybe a secret door to a … and all of a sudden, it's more of a Harry Potter type of thing. You know. We go far beyond the limits of the walls of the castle, but it's a wonderful story. And I think it's just going to be a dynamite picture."
Visitors to the Castle … well, let's stop right there. Visiting the Castle is possible but difficult. It serves as a private club for the Academy's members and their guests, so those who dine there on a nightly basis need to know a magician to get in the front doors. If one is lucky enough to be ushered into the mysterious rooms of this mansion, they might find Larsen sitting at the bar. He's there almost four days a week, and then he spends the rest of his time at his proper home in Santa Barbara. He was actually away from the Castle on one of its darkest, darkest days.
It was Halloween (of all nights) a couple of years ago, and the Magic Castle had made the local news. It was a fire that threatened to take away Larsen's 50 years of magical history. "And so I found out about the fire when my director here at the Castle called me, and he said, 'Are you sitting down?'" Larsen said. "He said, 'Sit down and turn on your television set and watch the news.' … But you know it's kind of scary to look at your life with smoke coming out of it. It's not pleasant."
Larsen said the blaze was confined to the attic floor, which sits above the three full floors where patrons congregate. The water damage was extensive after the sprinkler system kicked in and the firefighters doused the flames. Throughout the craziness, there was a strange development — one that probably could only happen at a place like the Magic Castle.
"And the fire actually started the morning of Halloween day, Oct. 31," Larsen said. "And in magic history, Oct. 31 is the date of Harry Houdini's passing away in 1926. And so the fire actually started, according to the fire department records, almost to the minute that Harry Houdini passed away in Detroit, Mich., at 11:45 or something Pacific Time."
The Castle's Houdini Room wasn't damaged at all, Larsen said. Whereas a room dedicated to Houdini's chief rival suffered some of the worst damage. "So we figured that's pretty spooky," he said. "Anyway, all was well because we have very, very good insurance. And about a half million dollars later, the Castle looks great."
The mystique of the Castle is kept intact largely because of the difficulty of securing a dinner reservation. Larsen seems to like this "private nightclub" feel, but he also is open to the public enjoying his magical playground. "To be a magician member, you have to prove yourself to be a magician," he said. "But people can be associate members, and they are from any walk of life in the world. And we have 5,000 members, and about half are magicians and about half are non-magicians. So you don't have to be a magician. The thing is, you just can't walk in off the street and say, 'Oh, hi, I'd like to come in and enjoy the wonders of the Magic Castle.'"
After gaining entry into the Castle, patrons find themselves in a room with no door other than the one they came in. It's up to them to head over to a little carved owl on a bookcase and say the secret words.
After that elaborate entrance, it's like "Alice in Wonderland crawling through the key hole, and suddenly you're in a different world." Inside, visitors enjoying food and libations, plus several magic shows from nine different magicians during any given week. There's everything from close-up card magic to more elaborate stage shows. If there's an open table somewhere, chances are a magician will sit down and entertain the crowds.
Larsen said he still watches some of the magicians, especially the acts he hasn't seen yet. He's always been surrounded by this profession, ever since his mother and father brought him on the road as part of the Larsen Family of Magicians. Today, he usually enjoys the magic rather than performs it. But occasionally he'll offer his comedy-magic act; he opened for The Amazing Jonathan in Las Vegas several times.
"I'm one of those hams that you know you put a flashlight on me, I start dancing in it," he said. "So I've done a lot of things, but it all comes down to enjoying magic, and magic is my life."
By John Soltes / Publisher / John@HollywoodSoapbox.com