'California Solo' is contemplative portrait of man beginning to break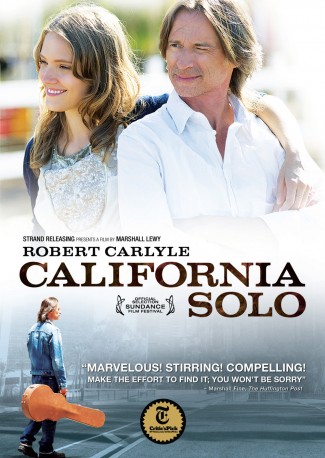 Robert Carlyle, a great actor who needs the right movie to shine, found an impressive starring vehicle in California Solo, an indie written and directed by Marshall Lewy. Playing a former British rocker, Carlyle carves out a wonderful portrait of a good man caught in impossible circumstances. Parallels to A Better Life and The Visitor are apparent, but California Solo, currently available on DVD from Strand Releasing, may be the best of the new cinematic takes on immigration policies.
Lachlan (Carlyle) is a dedicated farmer who prefers not to remember the good old days when he and his brother found success with a British rock group. Something dark permeates his past, and he chooses to stay in the present day, never venturing down memory lane. He truly enjoys farming and making friends with the customers at a local farmers' market. One of those friends is Beau (Alexia Rasmussen), a woman who takes an interest in Lachlan's vegetable stand and wants to take things further with the ex-rocker. The problem is Paul (Danny Masterson), her DJ boyfriend who recognizes Lachlan's music past and begins coaxing the singer to come out of retirement.
If California Solo followed down this path, it would turn into a typical romance, all bookended by Lachlan's big comeback to the rock crowd. You can almost envision it: one final concert to prove to everyone he still has the chops.
Luckily, the movie never fits that cookie-cutter mold. Instead, it follows reality — sad, sad reality. Lachlan is busted one night for a DWI, and now his immigration status in the United States is in peril. After hiring some lawyers and learning about the complicated laws, the farmer finds himself broke and needing to find a family member who can vouch for his contribution to American society.
That's when this rocker-turned-greenthumb tries to locate his long lost daughter.
California Solo excels mostly because of Carlyle's performance and Lewy's brilliant script. The conversations that materialize in the movie feel so organic (pun intended), as if we are watching real people talking. Lachlan never fits the mold of a cinematic hero or anti-hero. He simply is a character with some major problems. The fact that he keeps his integrity throughout the duration of the film is a credit to Lewy's dedication to this central figure. At the heart of the film is a good guy who has several opportunities to go down the wrong path. There's no mistaking that he's flawed (driving while intoxicated and without a license is not a good idea), but it's hard not to root for him to overcome his troubles.
The supporting work is complementary to Carlyle's anchoring performance. I appreciated Kathleen Wilhoite as one of Lachlan's former lovers, and Rasmussen has the right mixture of benignity and allurement. They all pale in the shadow of Carlyle, but that is expected. After all, this is California Solo, not California Teamwork. The only way for Lachlan to survive is with his own fortitude. Watching him find that inspiration makes for an exhilarating 95 minutes.
By John Soltes / Publisher / John@HollywoodSoapbox.com
California Solo
Written and directed by Marshall Lewy
Starring Robert Carlyle, Alexia Rasmussen, Danny Masterson and Kathleen Wilhoite
Running time: 95 minutes
Not Rated
Rating:
Revised