New Beverly Cinema plans Rian Johnson double feature, 'Secret of NIMH' screening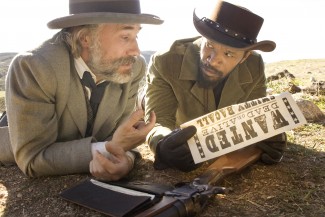 LOS ANGELES — Arguably the best movie theater in the world, the New Beverly Cinema in Los Angeles has been offering double features every night for a number of years. Walking into these hallowed grounds, the atmosphere seems to ooze Quentin Tarantino pastiche (with a touch of David Lynch thrown in for good measure, and some Darren Aronofsky for some good feng shui). The single-screen anomaly has the audacity of being something different: wonderfully old. It runs 35mm films, features a simple lobby, small colorful tickets that are ripped in half and a dedication to programming some forgotten gems.
For those lucky enough to be in the Hollywood area, the New Bev (as it's nicknamed) will host a second evening of Rian Johnson films, with the director in person. On Monday, March 11, the cinema will screen Looper and Brick, two fine, fine films. Johnson will offer a Q&A in between the double feature, and some special guests are promised. At Sunday's double feature, Johnson brought out the cast of Brick, plus some of the creative team. He signed plenty of autographs for fans who go ga-ga for noir high school tales and time-traveling bloodshed.
Other highlights in the coming days include: a David O. Russell double feature, a special tribute to The Chipmunk Adventure and The Secret of NIMH, an ultra rare screening of Jean Renoir's Grand Illusion and a double feature of The Dark Corner and Dark Passage.
Tickets are generally $8 (that's not a typo), and movies typically start in the 7 p.m. hour (with the second movie usually in the 9 p.m. hour). Cash only, and there's discounts for seniors. Tarantino fans can also nab an exclusive Django Unchained T-shirt in the theater lobby. The New Bev played the Oscar-winning film for several weeks, which only seemed appropriate.
On the horizon, cinephiles can expect screenings of Monty Python's Life of Brian, Rear Window / Rope  and Jim Jarmusch night (Dead Man and Ghost Dog: The Way of the Samurai).
Directors and actors don't always attend the screenings, but when they do, plan on buying tickets early. The Sunday evening Rian Johnson event was sold out before the screening, and the ticket holders' line stretched down Beverly Boulevard. When the movies began in their 35mm glory, the audience, almost on command, applauded like it was a new Star Wars film. These were like-minded people in the same location for some much-needed manna.
The New Beverly Cinema is located at 7165 W. Beverly Blvd. in Los Angeles. Click here for more information.
By John Soltes / Publisher / John@HollywoodSoapbox.com