LAST CHANCE: 'The Mystery of Edwin Drood' is delightful fun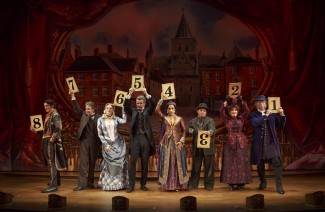 NEW YORK — Stars shine so much brighter against a dark landscape.
I'm not sure if The Mystery of Edwin Drood, finishing up an extended run at Broadway's Studio 54, is a great musical. I do know that in a theatrical season with several dull shows, it stands out like a gem. This is mostly because of the stellar cast that pumps so much energy into Rupert Holmes' ode to Charles Dickens' final work.
Chita Rivera, an American legend, is hilarious as Princess Puffer, proprietor of a local opium establishment. Stephanie J. Block is in fine male form as the title character, the man who won't make it to the end alive (there's no such things as spoiler alerts at The Mystery of Edwin Drood). Jim Norton is in command as the Chairman, the emcee of the evening. Gregg Edelman only has to look out at the audience, and he instantly receives a hearty chuckle. His Rev. Crisparkle role shouldn't be this much fun. Will Chase is devilish as John Jasper.
The story is typical Dickens. An enormous cast of stock characters circulate around society. There's the priest, the bum, the foreigner, the mysterious gentleman. Rather than present the tale as a dedicated theatrical adaptation, Holmes, who wrote the book, music and lyrics, decides to cast the story within a story. Everyone plays Dickens' characters, plus actors at a local music hall who are charged with bringing Drood to life. This back-and-forth and breaking down of the fourth wall makes for some great one-liners and scenarios.
The songs are catchy, and the cast sells them well. Don't try to follow the plot too hard; it becomes quite confusing to understand how all of the elements fit together.
The greatest fun in the long (too long) evening is in the final minutes. The audience is called on to decide the outcome of the story. Because Dickens died while writing this final tale, present-day theatergoers get to place the final period on his work in progress. At my performance, we elected to have Crisparkle (certainly a credit to Edelman's performance) as the murderer of Drood. But how great it would be to see Rivera's Puffer or Chase's Jasper get indicted.
The Mystery of Edwin Drood, which concludes March 10, will provide ample entertainment for both expert and novice theatergoers. It's a hoot.
By John Soltes / Publisher / John@HollywoodSoapbox.com
The Mystery of Edwin Drood

Book, Music, Lyrics and Orchestrations by Rupert Holmes

Directed by Scott Ellis

Starring Jim Norton, Chita Rivera, Will Chase, Stephanie J. Block, Gregg Edelman and Jessie Mueller

Currently playing at Studio 54 at 254 W. 54th St. in New York City. Click here for more information.

Running time: 2 hours, 30 minutes with one intermission

Rating: