The Art of the Business: Cirque du Soleil brings 'Totem' to NYC
Cirque du Soleil is ready to set up its tents at CitiField in Queens, and the showcase this time will be the new Robert Lepage-directed Totem. The show, which premieres in the Big Apple on March 14, charts the journey of humankind. In characteristic fashion, Cirque has put together a spectacle of acrobats and performers who offer death-defying acts for the audience.
Tim Smith, artistic director of the show, is the man behind the scenes, making sure everything runs smoothly and that the Montreal-based company's reputation for intricate artistry remains intact. The Broadway veteran, who performed in many shows himself, has been with Totem for a more than a year, after a successful stint as artistic director of Cirque's Alegría. This foray into theatrical acrobatics was a defining career move for Smith.
"I had a friend that said at a dinner party, 'Oh, Cirque du Soleil.' I was like, 'Oh, that's a company I hadn't really kept a eye on for many years.' You know. And they're the only people doing what they're doing in the business. And so, um, I started dialogue with them," Smith said of his initial decision to move from Broadway to Cirque du Soleil.
There are some parallels between his old theater jobs and his new profession, but the differences are quite stark. "So an average day for an artistic director, we actually sit in the middle of everything, meaning I manage about 75 percent of the tour because the cast is so large," he said. "You know 52 artists from 17 different countries. Eleven languages a day we work in. That alone is a unique environment that I'm not used to, and then you add the acrobatic element to the show."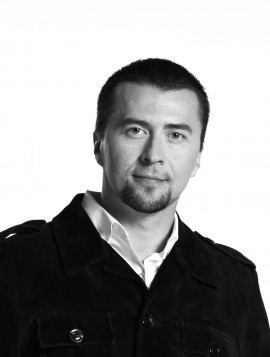 One of the most challenging and satisfying parts of the job for Smith is the constant changing of the show. "Cirque requires it and expects me to motivate the show and challenge the artists and challenge the concept of the show," he said. "Wherein theater, once you open, it's the same The Phantom of the Opera that you've seen 15 years ago. You know. With the shows that Cirque produces, they constantly change and motivate, and we're allowed to do that as artistic directors."
Smith, 43, is that unique conduit between Montreal (read: the mothership) and wherever Totem sets up its tent. He's able to collaborate with other artistic directors at an annual summit where he receives feedback and news about the company's upcoming projects.
"If you make a good T-shirt, most companies just continue to make the T-shirt until people stop coming," he said. "With Cirque, each show is completely conceived and costumed … Cirque shows live a long life because I think of the model of continuously changing it. So it's up to me to make sure that we have the investment in place years in advance."
In New York (to be followed by New Jersey, Ottawa and Ohio), Totem will try out a new act of hand balancing with a custom-made apparatus.
"His act was so great that once we started to explore it, me and him and the music and the lights, Cirque [said it was] good enough to be in the lineup," Smith said. "I'm very proud of the collaboration, and it's a perfect example of how creative my job can be even three years into Totem's inception."
With an international company like Cirque du Soleil, the prospects of living overseas for some time is a reality for Smith and his colleagues. When he first joined the company and started working for Alegria, he elected not to travel abroad. Instead, he transferred to Totem and began work on Lepage's creation. Typically one serves little more than two years as an artistic director on any show.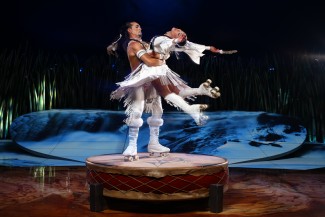 "Some people have been with their show for you know five [years]," he said. "Personally for me, being from New York and having the opportunity of being a part of a new Broadway original company every couple of years, I have that in my blood. So I can't really be inspired or inspire my artists or the show or the team after about two-and-a-half years, regardless of if we're going to Singapore or Australia. But some people take the job for that experience, which I totally get as well."
The entire working day isn't made up of art, music, flying acrobats and clowns. There's also a serious economic side to the role of artistic director. Smith said Totem is a hit for the company, but monetary pressures are still present. "So Totem itself, thank goodness, is weathering the storm…" he said. "Where other shows are being challenged because, yes, they've got eight years under their belt, nine years under their belt, going to new markets. Things like that."
It all comes down to "butts in the seat," he said, stressing the importance of word of mouth.
For Smith, although he's seen the show countless times (perhaps more than any other person), Totem never grows boring.
"Five girls from Mongolia who ride 9-foot unicycles who kick bowls on their heads to amazing music and the costumes," he said. "That's what Totem provides. Yeah, I don't get bored at all."
By John Soltes / Publisher / John@HollywoodSoapbox.com
Click here for more information.