INTERVIEW: Sophie B. Hawkins becomes Janis Joplin in 'Room 105'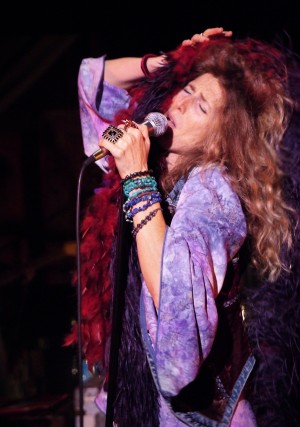 When Sophie B. Hawkins takes the stage in New Jersey on Saturday, Feb. 23, Sophie B. Hawkins will not be there. In her place will be Janis Joplin, or at least the spirt of the infamous blues rocker who died in October of 1970.
The Bergen Performing Arts Center in Englewood, N.J., will play host to the first East Coast performance of Room 105: The Highs and Lows of Janis Joplin, a rock musical that retells the story of the seminal singer.
For Hawkins, an accomplished musician in her own right, being cast in Room 105 presented a scary proposition. "Well, my manager, Gigi Gaston, wrote and directed it for me to do actually," Hawkins said recently during a phone interview. "She just said to me one day, 'You're going to play Janis.' And I should have said, 'Hell no.' But I said, 'Hell yes.' And it's an amazing piece of work she's written. It's really intuitive, and it's very deep and layered about Janis. It's not at all about her being a superstar. It's about a person, and you know I come back in my body as Janis, so I'm really a spirit."
The show's format allows Joplin, the character, to look back on her life with "new commentary, new wisdom and even improvisation," Hawkins said.
The performance piece, which ran an extended run in Los Angeles and plans to tour around the nation, is the result of research into one of the first female rockers and certainly one of the most influential singers of the last 50 years. "I thought this is like climbing Mount Everest," Hawkins said of the challenge.
Her goal with the show is simple, yet difficult: "[Create] not just as a singer, but to be able to act it and bring her to life on the stage in a relevant way."
Hawkins said she wants to portray Joplin's healing, touching, funny and powerful sides.
In her younger years, Hawkins used to listen to Joplin's music, focusing on the drumming of Big Brother and the Holding Company, Joplin's band. "I would listen to Big Brother and play along with the records, and I never dreamed that I would ever be a singer," she said. "So I really only knew what it was like to play behind her, you know, in my apartment in New York as a drummer."
To understand the singer, Hawkins studied older blues singers that Joplin emulated, including Bessie Smith, Lead Belly and Big Mama Thornton. "I went to her roots," she said. "I said, 'Okay, I'm 9 years old, I'm Janis Joplin. I'm in Texas, you know, and I've got some old records.' And that's how I went about studying her, as if I was her and learning all those people and learning to sing them exactly."
Hawkins attempted to personalize the singer and her storied career. (For the record, Hawkins calls her Janis, almost like she were a close friend.)
"I didn't want other people's opinions of her at all," she said. "I didn't want to know all the things that people said about her. I wanted to know what she felt, why she picked those people, why she loved them. And that's what's given me so much heart and soul and connection to her, I think."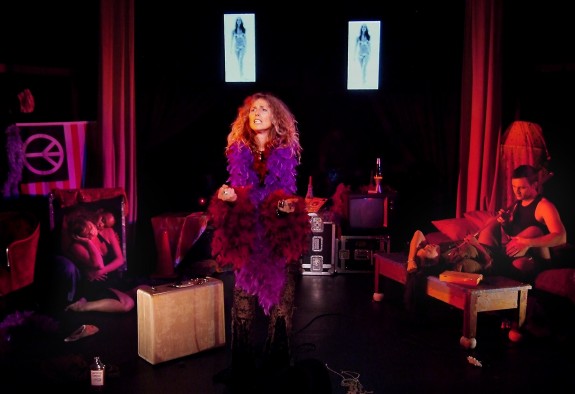 Although the two singers were not contemporaries, Hawkins said they might have struck up a friendship. Because Joplin loved "forward-thinking people" and "out-of-the-box people," Hawkins said there would have been mutual appreciation.
"I think she would have been the more dominant [one] because she's so intelligent, so funny, so witty, so quick that I feel like she is my friend. Isn't that funny?"
Of course, Joplin's final days were tragic, the stuff of music legend. "I also think that I wouldn't have ever been somebody that did drugs with her, because that's not my personality," she said. "I think I could have been there for her as a human, not part of the group that didn't really get the kind of trouble that she was in."
The emotions present in Room 105 are varied. From energized hilarity to deep, deep sadness, Hawkins needs to work her way through a person's life in 90 minutes. "The thing about Janis is she wanted to make everyone happy because she was so sad," she said. "That's one thing that her friends have said, and that I really relate to. When I get on the stage … I give a thousand trillion percent each time, because the audience I feel they're worth it and they need it. And that's why I'm there. I don't ever think about the way I look or the way I sound, and I think that's why my fans have been loyal to me and loved me over the years. Because they know I'm getting on stage to give them an experience to get out of ourselves and have a sort of transcendent experience. And she was going through that every night, too. I mean she was the first person to do that really. I mean really she was the first person to get up there like a sage, or an avatar."
Hawkins, struggling to find the right words, said Joplin had more than a style. It was a discipline, she surmised. "I don't think anyone had gone that far."
To prepare for such a performance, Hawkins usually meditates before the lights dim and everyone takes their seats. "Because I want to get in touch with her," she said. "And she always comes to me, and I'm sure it's just my imagination, but it feels real. She comes and she gives me a message before every show."
Although critics have been kind to Room 105, Hawkins seems most interested in the ultimate review. "I think Janice would have been very, very pleased," she said.
"Studying her, I just never ever get to the final layer. There is no final layer."
By John Soltes / Publisher / John@HollywoodSoapbox.com
Click here for more information on Room 105's performance at the BergenPAC in Englewood, N.J., and future plans for the national tour.