From Portugal to L.A. — Helder Guimarães is ready for some magic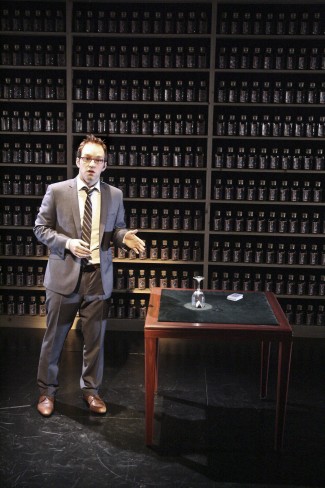 The promos for the Geffen Playhouse's hit magic show, Nothing to Hide, have stars Derek DelGaudio and Helder Guimarães looking out from the posters like two convicts ready for a mugshot. They're bruised and bloody, with DelGaudio holding a cigarette to his mouth and Guimarães about to enjoy what looks like a double scotch. It's a perfectly odd poster, and what may catch the spectator off guard are the stares of each performer. It's almost as if they're looking at the world, directly into the eyes of anyone glancing their way. There's a mystery there, something beckoning from behind the red-framed glasses of Guimarães and the sucker-punched eye of DelGaudio.
There's a feeling of enticement, of something being hidden. In other words, they're welcoming the audience to a different type of magic show, one that both honors the tradition of the art form and turns it on its head.
Consider yourself invited.
The evolution of Nothing to Hide was "kind of surprising and organic at the same time," Guimarães said recently during a phone interview. "I was moving from Portugal to L.A., and I ended up arriving in the beginning of 2012."
The former World Champion of Magic had moved to Los Angles at a most auspicious time for magic. The famed Magic Castle, the Mecca of magic in the world, was preparing for a grand reopening after a devastating fire. DelGaudio was booked to perform with another magician, but soon enough Guimarães was asked to fill in after circumstances changed.
"The initial plan and the initial idea was we were going to do like our separate repertoires," he said. "Derek was going to do his, and I was going to do mine. And then because we had just … three days to come up with something, we decided wouldn't it be cool if we could do at least one thing together. So at least it feels different and it feels special."
That initial conversation has blossomed into a Cinderella success story. With only a couple days before the premiere, the two magicians kept adding material to their routines. "And then we realized, we were like, oh, we should do the whole show together," Guimarães said. "When the day comes, we do the show together, and it was immediately a huge success at the Castle, and people talking with other people, saying you have to see this. And lines start forming."
Their two-night stint expanded into a full weekend of shows, then more shows and more shows. Eventually, the magicians attracted the interest of the Geffen Playhouse and Neil Patrick Harris (who serves as director of the transferred show), and they've been playing an extended run since November. Tickets are currently on sale through March 3. Plans for a future life in another American city are possible.
Guimarães is not new to success in the magic world. In 2006, he won the World Championship of Magic in cards. "After that I started traveling around the world and getting invitations to perform almost everywhere you could possibly imagine," he said. "I start knowing the world and meeting people and feeling empathy with some places and not others. You know, just like growing up and living."
He specifically came to Los Angeles to see the Magic Castle, a place he heard about when growing up in the magic world. He met some friends on these early trips to Los Angeles, including DelGaudio. "And eventually because of different circumstances, I felt that I belonged here," he said. "And that's just a feeling you have like a gut feeling, more than any other thing. It's less rational and more emotional than any other thing. … I've always loved being here. I think my work has always been very well received here. So I said, why not? Why not just try and move to L.A. and see what happens."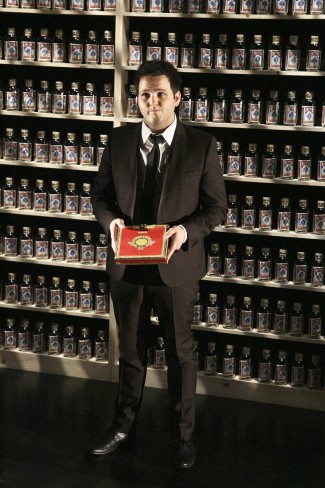 For most of his professional life, Guimarães has performed solo, although he collaborated with magicians during the development phase of several acts.
Now, more than a year after the original shows of Nothing to Hide, Guimarães can't seeing doing the show without DelGaudio. "It's one of those things that we couldn't do it alone," he said. "There are certain types of approaches that if you try to do it alone, it just doesn't work. It's not the same. That is one of the beauties of this show. … We created the show together. It makes no sense that other two magicians would do this show. It can only actually be done by both of us."
Guimarães said it's been interesting to see some audience members at the Geffen transform their perceptions. They might enter the theater expecting something strictly theatrical, and they leave with a deeper appreciation of the magical. "They enter to see one thing; they see another one, and they love it," he said. "So that's just a very beautiful experience. And sometimes (they) even come out of the show saying, 'I didn't know magic was like this. You know, I thought magic was a different thing.' So that's a really good experience to listen to someone saying those words. As a magician, it's just amazing."
The magician, whose roots go back to Portugal, said he is fortunate to have found success in this artistic field. "I'm very particular about my choices of what I want to do and what I focus energy on," he said. "I think I have a very … strong belief system about what I should do with my life and what I want to do with my life."
One choice he made more than a year ago is still paying off, and audiences are still transforming, likely confounded and amazed by carefully calculated sleight-of-hand acts. Like the poster for Nothing to Hide, with the performers bruised and bloody, there's that inviting, mysterious stare. It's a promise of something different.
By John Soltes / Publisher / John@HollywoodSoapbox.com