INTERVIEW: Kristen Luman of Syfy's 'Ghost Mine' discusses her paranormal experiences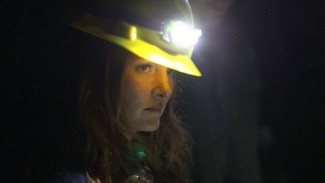 When Kristen Luman was only 12 years old, she started a ghost club in her hometown, held séances at slumber parties and cleared the local library of all books on things that go bump in the night. From these humble supernatural beginnings, she has built a career around the field of paranormal psychology, helping people discern between the manifestations of their mind and the so-called spirit world.
Luman's work, along with her colleague Patrick Doyle, is highlighted in the new Syfy reality series Ghost Mine, set to premiere Wednesday, Jan. 16 at 10 p.m. The spirits they're after are those that supposedly haunt the Crescent Mine in the remote forests of Oregon. Traveling down dark passageways, weary of future cave-ins, the two set up their investigative equipment to find the ghosts deep within the mountain.
For Luman, her work on the show started with a phone call from Doyle. "The paranormal community is kind of small, and you kind of know everybody," Luman said recently during a phone interview. "(Doyle) and I had worked together before. And he really liked the way that I investigated."
Luman is more based in psychology while Doyle's research is based in technology. "He's a lot more technologically savvy than I am," she said. "And I rely on the technology, and he kind of helps me through it."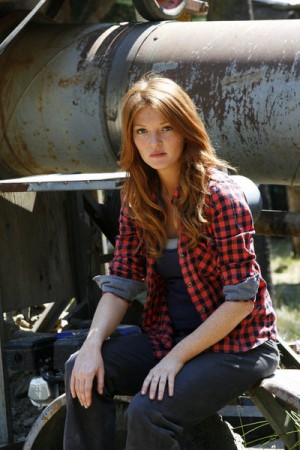 The paranormal investigator began her work by researching the people in the community that surrounds Crescent Mine. "We always do research to kind of find out about the area, the history, what the people are like," Luman said. "But it was actually really cool, because while we were filming, you know meeting the people in the town and everything, we got to learn a lot more just being around the people and being in the town itself. … The mystery just kind of kept unfolding and unfolding and unfolding as we were filming."
Luman admitted to not being scared of the paranormal, but she is claustrophobic, which makes working in a mine a challenge. "(W)hen Patrick said we'd be investigating a mine, I was like, 'Oh jeez, I hope I can do this,'" she said. "I thought this would be a great research to do experiments and field research basically in a mine, because mines … can be very disorienting for people. It's black, no lights, low oxygen. I mean all this kind of stuff can play into someone having a supernatural experience. So, that was really cool for me to be able to study what was happening with the men while they were working and how that played into what they were experiencing."
Another challenge for Luman was the resistance from the miners themselves. Many of them say it's bad luck to have a woman in the tunnels, especially a redheaded woman like Luman. "So that was kind of a surprise to me when I got there," she said. "It was also a little bit rattling. … So I kind of had to prove myself to them."
Luman said the bad-luck legend stems from Crescent Mine's history. Apparently women only went into the mine to identify a body after a tragedy. "And there's a story from what I got from one of the miners about a redheaded woman going into a mine, and then there was a cave-in after the redheaded woman left," she said. "And so that had something to do with the whole myth behind no redheaded women in mines."
Did the paranormal investigators find anything? They wouldn't just call a show Ghost Mine for anything. Luman is mostly tight-lipped about the findings, but she did allow a few morsels of mystery: "We soon realized that the mine was associated with the town itself, and then we had even more things, more of the mystery to uncover. … It wasn't just the mine anymore. If that makes sense without giving away too much."
Deciphering fact from fiction is a specialty of Luman's, and that ability can be most helpful in such a difficult workplace as a mine. "When you're in a mine, one of people's innate fears is darkness," she said. "And you know you lose light in there and your brain starts just going crazy with sounds and seeing things. And anything could be coming around the corner. And oxygen levels also affect that, so that was another thing to keep in mind. We had a device that measured the amount of oxygen in the air that we used every time we went into the mine."
Luman offered a lot of credit to the miners for their skills and courage of going into darkness on a daily basis. "I mean it's scary," she said.
Ghost Mine is the culmination of a lifelong fascination with the paranormal. "I was also fascinated about the power of the mind and what the mind itself can create," Luman said. "So I put those two kind of together and when I was just going to school for psychology … paranormal psychology really kind of just piqued my interest and got me back involved in all of that. And I thought how amazing would it be to kind of study both, as someone who is a believer in the paranormal, but also is a believer in how powerful the mind is and how the mind can play tricks on you. And trying to actually discover what is real, what is actually a paranormal experience, and what is something that somebody's mind might manifest."
Any doubts about the existence of spirits? Luman is a firm believer, with no wiggle room for suspicion. "I've always had no doubt that there's things that can't be explained," she said. "We can explain some of it, but there's a lot of stuff that we can't explain."
Luman said she hopes the reality series spawns future seasons. "Investigating in a mine has never been done before," she said. "I'm actually a certified miner now. … So a lot of investigators aren't going to take the time of that many hours of schooling and lessons."
By John Soltes / Publisher / John@HollywoodSoapbox.com