'Best Exotic Marigold Hotel' is light entertainment with serious actors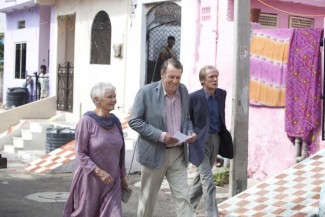 The cast of British actors in The Best Exotic Marigold Hotel is so impressive that it's almost too much to process at once.
The long list of actors includes Judi Dench, Maggie Smith, Tom Wilkinson, Bill Nighy and Penelope Wilton, to name a few.
Too bad they couldn't find a better vehicle for their collective talents. The movie is enjoyable, although light entertainment, perfect to while away two hours — nothing more, nothing less.
John Madden's film, featuring a script by Ol Parker and based on the novel by Deborah Moggach, is never an unpleasant experience. The cast are far too talented to make these two hours a bad time, but the result of their hard work never seems to gel. The movie can feel oddly cliche, kind of like bestseller entertainment where characters "find themselves" in exotic locales.
Dench plays Evelyn, a widow in search of some meaning for the twilight of her life. An opportunity presents itself in India, so she boards the next plane for the subcontinent and settles in at the Best Exotic Marigold Hotel, a dingy hotel passing off as a luxurious and relaxing retirement community. Other retirees joining Evelyn are Graham (Wilkinson), a gay man searching for his long-lost lover; Douglas (Nighy) and Jean (Wilton), a married couple who lost their retirement money; Muriel (Smith), a prejudice woman looking to get a speedy hip replacement; Norman (Ronald Pickup), a funny loner with an ever-ferocious sexual appetite; and Madge (Celia Imrie), a similarly funny loner looking for a relationship.
They meet as strangers in a strangeland, sharing their bond of British identity. Their new landlord is Sonny (Dev Patel), a young man who means well but can never pull off his grandiose plans. He has a strict mother, a lovely girlfriend and a penchant for finding the silver lining, whether it's actually there or not.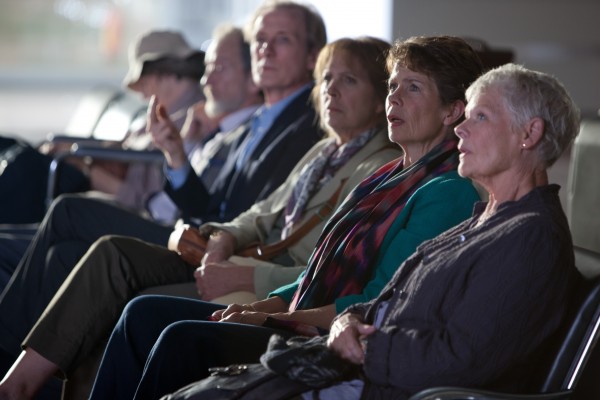 The script is serviceable and cutesy, featuring one too many jokes geared toward the age of the characters. All of the usual suspects are there: erectile dysfunction medication, traveler's diarrhea, mispronunciations of the local language. Some of the jokes are quite funny, especially when Smith is on screen. Other times, The Best Exotic Marigold Hotel can have a been-there-done-that feel to the plot.
Dench is the highlight, and she deservingly earned a Golden Globe nomination for her efforts. She's graceful and realistic, willing to let the new setting wash over her like a cultural wave. It's a pleasure to keep company with her character. Wilkinson, playing the saddest character, is equally transfixing. He's the one with the most to lose; if he doesn't find his former lover, his guilt will continue to fester. Sonny, although played well by Patel, feels extraneous and prolongs the simple comedy to the two-hour mark. A little editing around his character and its backstory would have been appreciated.
Besides Dench and Wilkinson, the scenery is beautiful. Madden's lens is able to capture the vivid color and energy of India. It's so beautiful that it almost masks what is otherwise a cliche plot. I hate to criticize something that feels so enjoyable, but everyone involved has produced far more important work.
By John Soltes / Publisher / John@HollywoodSoapbox.com
The Best Exotic Marigold Hotel
Directed by John Madden
Written by Ol Parker; based on the book by Deborah Moggach
Starring Judi Dench, Dev Patel, Tom Wilkinson, Penelope Wilton, Bill Nighy and Maggie Smith
Running time: 125 minutes
Rated PG-13 for sexual content and language
Rating: