'Aliyah' finds a 27-year-old dreaming of opening a restaurant in Tel Aviv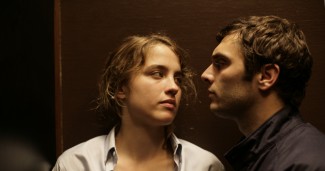 Pio Marmaï offers a subtle, yet captivating, performance in the new drama Aliyah from Film Movement. The film follows Alex (Marmaï) as he tries to break from one life and enter a new one. He lives in Paris and constantly needs to tend to his troublesome brother. Whether it's lying about his extra-marital affairs or paying off his debts, Alex show's a familial bond to his brother Isaac (Cédric Kahn), but he knows that it's time to move on. When the opportunity to open a new restaurant in Tel Aviv surfaces, Alex jumps at the chance.
There's one hook: He needs money to become a partner in the deal.
The only thing Alex knows how to do well is sell drugs. He has an established network of buyers, and he's found success in the illegal syndicate. The young man hates skirting the law and constantly looking over his shoulder, but he sees no other way of getting so much money so quick. Like a robber deciding to go in for one final heist, Alex decides to make one last-ditch effort to sell drugs. Seeing whether he's able to get the money and turn the focus off his brother's antics is one of the joys of watching Aliyah.
Marmaï is the main draw for the movie. His performance is never showy or over-the-top. He's simply a man with a predicament. If he knew how to work a regular job, he'd probably do that. Drug dealing for him is an after-thought. He'd rather not be in this line of work, but it comes easy to him.
The script, written by Gaëlle Macé and Elie Wajeman, is so matter of fact that Alex even falls into a relationship without truly knowing it. The woman, Jeanne (Adèle Haenel), loves the mystery behind this 27-year-old. What does he do for a living? Why does he want to open a restaurant in Tel Aviv? Is he in touch with his Jewish roots? The conversations that these two characters have are quite real and always interesting to watch. The screenplay has that unique ability to tell its story through well-placed dialogue and engaging talks among the characters.
Because of the debt that Alex's brother has amassed, the move to Tel Aviv doesn't come easy. There are a lot of men who want answers and substantial funds from Isaac, otherwise violence is on the horizon. It's tough to tell whether Alex feels beholden to his brother out of pity or actual love. By funneling him money from the drug operation, Alex becomes his protector of sorts. This move to Israel will not only mean a disconnection between brothers, but it could mean this brother's ultimate demise.
Wajeman, who also directed the film, smartly keeps everything focused on Alex. We never receive the full story about the brother's debts or Jeanne's motivations. Instead, we stick with our central character, always watching him and his transformation. There's a long segment on Alex learning Hebrew, him saying goodbye to his adopted Paris and his questions about compulsory military service in his new home ("aliyah" is used to describe Jews emigrating to Israel). In many ways, Aliyah is one long farewell, and the longer it persists, the less promising is Alex's prospects of finally moving on with his life.
By John Soltes / Publisher / John@HollywoodSoapbox.com
Aliyah

In French with English subtitles

Directed by Elie Wajeman

Written by Gaëlle Macé and Elie Wajeman

Starring Pio Marmaï, Cédric Kahn and Adèle Haenel

Running time: 90 minutes

Rating: