INTERVIEW: 'Gator Boys' on their biggest alligator yet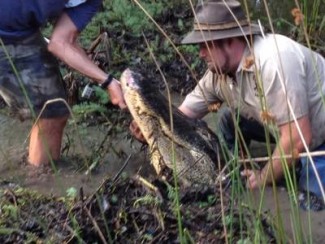 Gator Boys, the hit reality show on Animal Planet, follows the swampy adventures of Paul Bedard and Jimmy Riffle, two guys with the dangerous job of rescuing alligators in the American South. For the upcoming season, which continues with new episodes on Sunday nights at 9 p.m., the duo head to Mississippi to help the delta country capture a few gators that escaped during Hurricane Katrina.
Their usual home base is Everglades Holiday Park in Fort Lauderdale, Fla. But being that the facility is undergoing renovations, they needed another area to focus their efforts on. What they found in the waters of nearby Mississippi is quite startling, indeed.
"When we got to Mississippi we didn't know what to expect, and we found out very quickly that the mud was endless," Riffle said recently during a phone interview. "They had no bottom to the mud. I learned actually that they have a lot of briar and a lot of thorns, so I actually had to wear some shoes in Mississippi, which hurt my feelings."
Bedard added, "There are some strange people in Mississippi."
"A lot of strange people," Riffle said.
The Gator Boys are recognizable now that they've been on television. Bedard, the older of the two, often wears a bandana as he descends into the murky depths of a pond to snag a pesky alligator. Riffle, sporting an oversize hat, approaches gators almost like a smooth-moving samurai, except the goal is to have no blood shed. Both men wear prizes from their largest catches around their neck or on their hat.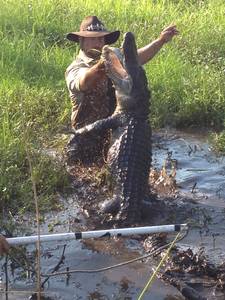 The journey from Florida to Mississippi was one that involved a lot of question marks. "The county took over Holiday Park, and we weren't sure if we were going to be included in their plans or not," Bedard said. "And Jimmy kind of stumbled across these guys in Mississippi (who) had this opportunity. They said, 'Hey, we'd like you to come out here and help us start a rescue program.' They had a bunch of big alligators escape from Hurricane Katrina that are still lingering around. And we said, 'Yeah, man. Let's go give it a shot and see what it's like.' "
There's not much of a difference between the alligators in Florida and their cousins in Mississippi — except size, of course. "A lot of these gators are farm-raised, so a gator that's maybe 8 feet long … in Florida might be 140-180 pounds," Bedard said. "Some of these guys (in Mississippi) were pushing 200-300 pounds that size, because you know their whole life (is) in captivity. And then Hurricane Katrina comes, the water rises and they all swim away. But they've been wild for seven years, so they're just as nasty as any wild gator."
And make no mistake about it, what the guys find in Mississippi is truly gargantuan. "Paul and I, we actually caught the largest alligator that we have ever caught in Mississippi," Riffle said. "We're not going to tell you how big that is. You have to make sure they watch the episode. We did a lot of crazy catches, very dangerous."
Riffle, who has especially taken to the Mississippi rescue efforts, found a lot of positives in his new stomping ground at the Gulf Coast Gator Ranch in Moss Point, Miss. "The good thing about Gulf Coast Gator Ranch was that they had a breeding pond on their property," he said. "In Florida, when we caught the alligator, it went back to Everglades Holiday Park and then brought to Everglades Alligator Farm in Homestead. So, in Mississippi, we would catch an alligator, and we would just drive right to the ranch and drop the alligator off. We really enjoyed having the pond on the property."
Bedard added that a lot of their time in Florida was eaten up by a 70-minute commute to the alligator farm. "It gets to be kind of a hassle," Bedard said. "You ruin a whole day of traffic just going to drop off the gators."
The two were surprised by the size of the alligators, but also some of the people they encountered. A couple of the situations almost turned violent, even before they started looking for the alligators. "These people, they are more acclimated for the alligators to be there," Riffle said. "They're used to it. The only problem they had is if we were trying to catch an alligator, we would happen to go on their property. We actually had a gun pulled on us out there, too. And we actually went to go catch another alligator, and someone had a AR-15, and he was about to shoot the alligator. We kind of talked him out of it. The people were very, very different than that of Florida."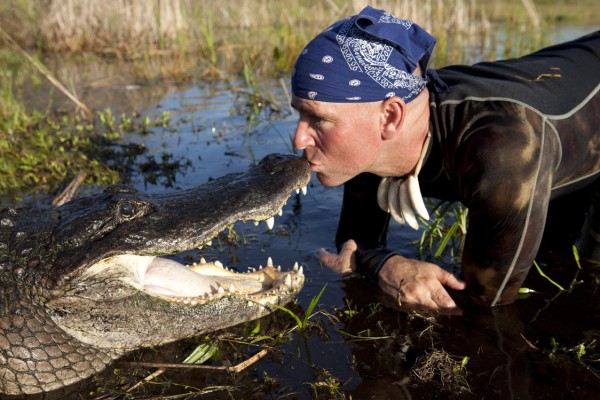 Currently, the Gator Boys are undecided on what their future entails. They've enjoyed their time in Mississippi, but still have commitments back at Holiday Park. Despite the rare run-in with a gun-toting local, Bedard likes the people in his new location, just not the water. "Mississippi has kind of grown on us, especially Jimmy and a few of the guys," he said. "People are a lot nicer down there. There's good things in both spots. I miss clear water in Florida. My thing is usually going in the water, and there's not a whole lot of clear water in Mississippi."
Bedard and Riffle have been friends for more than 15 years. It's been a long journey for both of them from shoveling alligator excrement to being the stars of a hit reality show. Perhaps the most surprising element of their story is that Bedard, ever-present on promos for Gator Boys on Animal Planet, doesn't even own a television. "I haven't had a TV in seven years," he said. "I do get a DVD copy of (the show), and I watch them just to see what it looks like. But I usually don't watch TV at all."
He does know that the show is a hit. After all, the two get recognized more in public, and even if people don't know who they are, there's always a crowd around when an alligator is about to be caught. "In the old days … you have four or five curious people around looking to see does this guy get eaten when he goes in the water with the alligator," Bedard said. "Now the neighborhood comes out. We had one the other day … I went in the water, by the time I got out of the water, there was probably 40 people standing around, just taking pictures with Jimmy and all this other stuff. It was kind of weird."
Admittedly, there are a lot of people interested in this field of work simply for the notoriety and "cool" factor of handling wild animals. Riffle and Bedard don't seem to like the posers. "You get people that see the show or they see us doing an alligator wrestling show, and they're like, 'Oh, we can do that,'" Riffle said. "Paul and I have been working with them for years. We can read the body language. We know how the alligator's going to move. If someone gets in there who thinks they know what they're doing, they're going to end up leaving on the stretcher."
Bedard agrees. "We get a lot of volunteers that want to come out or be part of the team," he said. "Basically I call them Facebook volunteers. They just want to get a bunch of pictures with the alligator, and then all of a sudden they don't want to work, they don't want to do this. They want to be right out doing the high adventure stuff right away and not doing all the work that we all did. I mean Jimmy was cleaning gator pits … That kid picked up more gator poop than anybody I know. That's what he did as a young kid. He would go clean all the pens, and that's how you earned your stripes to be a wrestler. Now these kids want to just put pictures on Facebook."
Riffle calls it "bragging rights." Bedard echoes those sentiments with a simple request: "You come down, I'll get you a picture, and then go away. Don't waste my time."
Although the location of their alligator rescuing is still in question, there's no doubt that both Riffle and Bedard want to continue in this line of work for years to come. "I'm hoping the TV show lasts another maybe three to five years," Bedard said. "But I want to be catching gators until I'm an old man."
Riffle has plans of opening his own facility. "I plan on staying in the business as long as I'm alive, or capable of doing it," he said. "This is a passion you have to have. You don't just wake up one day and fall in love with it. This is something that's in your blood. We've been raised around it, so this is who we are."
By John Soltes / Publisher / John@HollywoodSoapbox.com
Click here for more information.