Simon Callow, a master storyteller, enlivens 'A Christmas Carol' with his unique style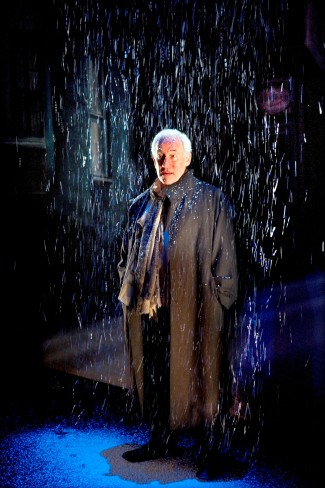 LONDON — Simon Callow, one of the most revered interpreters of Charles Dickens and William Shakespeare working in London, has created an exquisite holiday present for theatergoers with his slimmed-down presentation of A Christmas Carol.
The familiar story of Ebeneezer Scrooge and his otherworldly journey has entered the canon of literature as one of the most effective and recognizable ghost stories ever written. The text has been analyzed, adapted and staged in numerous ways, everything from Tommy Steele in Scrooge: The Musical to Jim Carrey's motion-capture performance in Disney's A Christmas Carol a few years ago. Callow, a smart actor, understands that less can be a whole lot more. Within 80 minutes, using minimal special effects and props, he is able to conjure the spirits and provide as stirring a production of Dickens's classic as any other interpretation. I choose his rendition as the best one in this crowded field of storytellers pining at the chance to tell the story of Scrooge, Bob Cratchit and Tiny Tim.
At the Arts Theatre in London's West End, Callow recently finished a return engagement of his one-man show. Future runs will hopefully become an annual expectation.
When the actor first emerges on the darkened stage, he's lit by a lazily scattering of Christmas lights atop an equally scattered pile of chairs. He's wearing a winter coat and scarf, and he seems ready to spin his yarn as if the audience were a crackling fire and the chestnuts were ready for roasting. Slowly, he enters the fictional realm, serving as both narrator of the proceedings and simultaneous cast member. He uses distinctive voices to differentiate the characters, from a cackled scowl for Scrooge to a shy innocence for Tiny Tim. A quick spin of his head from left to right offers Callow the chance to have a conversation between two of Dickens's creations, whether it's Scrooge excoriating Cratchit for wanting to take off from work on Christmas day or the solemn celebration at the dinner table of an impoverished household.
Behind Callow are two screens, one serving as a backdrop with a rotating set of images to highlight the scenes, and the other dividing the stage diagonally, providing the actor with all the tools necessary to build Scrooge's office, mansion and his ghostly adventure to the past, present and future.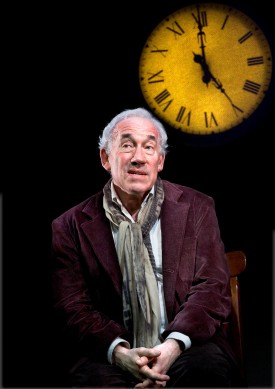 Eventually, those chairs in the foreground are unhinged from their balancing architecture, looking like an art piece from Louise Nevelson, and serve as multiple seats for the tale to continue into our imagination.
Callow continues this way, using spare props and glimpses of scenery to enliven the story. It's a smart move by director and designer Tom Cairns. The minimalist approach is both evocative of the eerie story and serves A Christmas Carol well. After all, is there a member of the audience who doesn't know the plot precisely? Do we really need all the beeps and whistles, or just a spirited recitation of this classic tale?

Callow, ever the consummate actor, is able to use his facial expressions and gestures to convey the requisite emotion for each character. His body becomes an artist's palette, and it's quite thrilling to watch him paint these characters. Obviously, the one who shines the most is Scrooge, a Grinch-like creation who goes from malignity to benevolence right before our eyes. It's a drastic character change, but Callow grounds the transformation in Dickens's well-chosen words of descriptive detail. When Jacob Marley first beckons, Scrooge is all "Bah humbugs" and furrowed brows. He's terrified, but deep down his heart remains the same. It's only after the succession of other spirits that his shell begins to crack, that he's able to see the wonderment of his youth, the painstaking reality of the present and the doomed inevitability of his future. Callow uses these chapter headings to show this main character's evolution. Along the way, the actor has similarly convinced us, the collective audience, of the boundless limits of the spoken word.
By John Soltes / Publisher / John@HollywoodSoapbox.com
Simon Callow in A Christmas Carol recently finished a holiday run at London's Arts Theatre. Click here for more information.