Maria Friedman revives 'Merrily We Roll Along' at London's Menier Chocolate Factory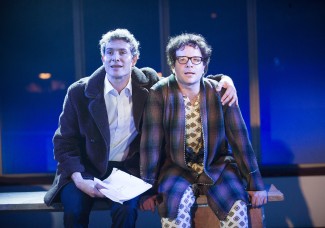 LONDON — The impossible is occurring at London's Menier Chocolate Factory, the little company that continually pumps out exquisite theater. Here, in Bankside, which sits in an ever-changing neighborhood south of the Thames, is a small theater where access is gained by walking through a restaurant. Descend a few stairs and tucked away in the back is this little gem, waiting to be discovered. Among the somewhat cramped setting, director Maria Friedman (yes, that Maria Friedman) has given life to one of Stephen Sondheim's only critical and financial duds.
When Merrily We Roll Along opened on Broadway, it closed after a few performances. The failure was chalked up to several factors, be it the age of the cast or the backward telling of the musical's story. It shuttered and sat for a while, never receiving its long-due credit, at least not in the States.
The Menier's version not only revitalizes this musical, but the company makes it so stirring and heartfelt that it's hard not to rank the show among Sondheim's best. They haven't just found the diamond in the rough, because it turns out there was no rough in the first place. The show simply needed the right creative team and cast members. New Yorkers can only hope this sold-out production heads across the Pond, similar to Menier's Sunday in the Park with George and A Little Night Music.
Mark Umbers plays Franklin, a composer of music whose trajectory in life is told in reverse chronology. We first meet Frank in his swanky apartment, already on his second wife (Josefina Gabrielle) and facing a professional life of dissatisfaction. His friends dislike him, his first wife (Clare Foster) has custody of his son, and he has no idea how this sorrowful existence came to be. The only mate giving him the time of day is Mary (Jenna Russell, who is the highlight among the cast). She's come to the party, but refuses to let Frank off the hook. She wants to know why he has changed so much. What happened? Unfortunately her biting attacks are blunted by her out-of-control alcoholism.
As Merrily We Roll Along rolls along, we work backwards to find out how Frank and his writing partner Charley (Damian Humbley) fell out out of favor with each other. When the two-act musical is complete, we've been given a full portrait of a trifecta of friends pulled apart by the tantalizing attraction of fame and fortune.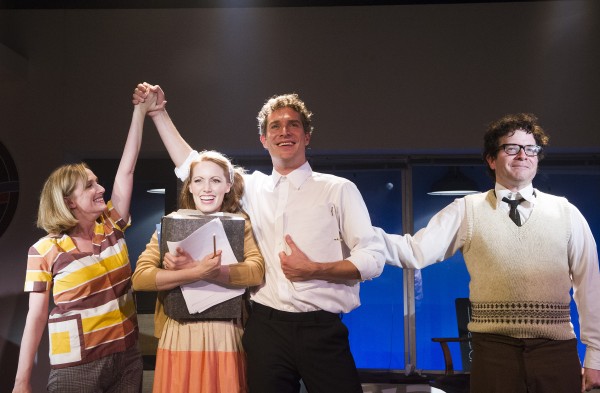 Sondheim's songs are beautifully realized by the hard-working cast. From the title number, which has the uncanny ability to speed up and slow down on command, to "That Frank" and "Good Thing Going," the music is perfectly suited for the meteoric rise (and fall) of our leading man. George Furth's book is strong, although it meanders into cliche after a while. The characters begin speaking in slogans and sayings, and one eventually begins hoping for another Sondheim song to begin.
Among the cast, Umbers and Russell are the best. Umbers has the right balance of likability and cunning to have us both love and hate the outcome of Frank's evolution. Russell, definitely playing against type, has the hardest role among the three central friends. She's supposed to be witty and cold, yet deep down she has an unrequited (and unfulfilled) love for Frank. It's a complex role, and Russell amazingly pulls it off, providing the two-hour-30-minute evening with much of its humor.
There's nothing wrong with Humbley's studious take on Charley, but unfortunately the character is the one part of Merrily We Roll Along that falls under the shadow of his colleagues on stage.
Friedman, best known to theatergoers as a masterful interpreter of Sondheim songs, is making her professional directorial debut with Merrily We Roll Along. One can only hope her vision and success are able to overflow from this small theater in Bankside and end up either in the West End or on Broadway. This Sondheim musical needs to be heard.
By John Soltes / Publisher / John@HollywoodSoapbox.com
Merrily We Roll Along is currently playing at the Menier Chocolate Factory until March 9. Click here for more information.