'Cirque du Soleil: Worlds Away' finds magic under several circus tents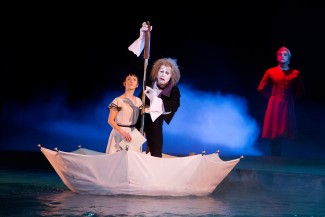 The odds of enjoying a Cirque du Soleil production are quite high. This Canadian-based company has pumped out hit after hit for a couple of decades now, and every few years the creatives are able to diversify their creations and find something as thrilling as earlier pursuits.
My confession: I'm a bit of a Cirque freak. Personally or professionally, I've seen the following shows: La Nouba, Varekai, Wintuk, Kooza, Ovo, Zarkana (twice), Zumanity, Criss Angel Believe, Ká, O, Mystere, Love, Viva Elvis (twice) and Iris. So, for me, the company's new movie, Cirque du Soleil: Worlds Away, is a welcome invitation into a world I know and love. For newcomers, this 90-minute journey should be a fitting entry into the mythology of Cirque.
Taking highlights from all seven Cirque shows in Las Vegas (although blink and you might miss the Criss Angel Believe segment), the movie weaves a tapestry of beautiful imagery with death-defying acts. We follow Mia (Erica Linz) as she searches for a circus performer (Igor Zaripov) who has fallen into an alternate reality. There's little talking in the film; dialogue has been replaced by sequence after sequence of circus acts.
The presentation of these three-dimensional spectacles is wonderfully staged by director Andrew Adamson. We're offered several vantage points of the action, some from up high and some from right below. This is not a movie with a stationary camera, giving us the same perspective as an audience member. Instead, we are whisked away into these worlds with the only common thread being Mia's journey and the exclusive access of a fly buzzing around.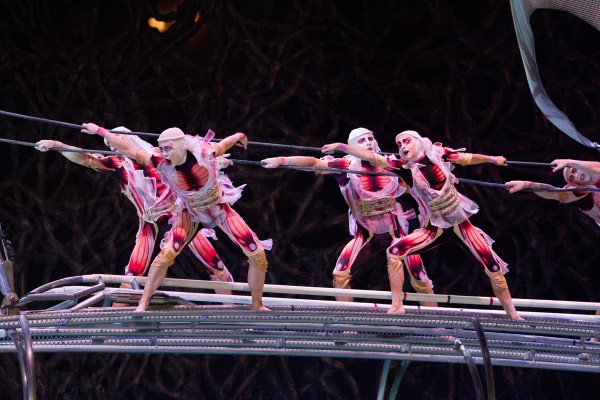 The most enticing scenes involve the action of Ká, one of Cirque's best shows. The rotating stage in this Asia-influenced show from Robert Lepage is dizzying, and the movie is able to capture the same magic as seeing it in person (the 3D format helps, but is not a necessity for effectiveness). Acrobats leap around the set like warriors pitted for battle. Their warlike movements are as menacing as they are graceful.
The sequence from Love, featuring songs from the Beatles, is beautiful, although somewhat out of place. This particular jukebox show is built around creativity rather than strict acrobatics, but still Worlds Away affords that rare chance of getting closer to one of the top shows on the Las Vegas Strip.
And is there anything better than O? It's easily the best Cirque show I've seen, and the explosion of energy that comes from the watery stage of this theatrical extravaganza is still enchanting.
Cirque du Soleil: Worlds Away offers simultaneous enjoyment for two distinctly different groups of viewers. For those unable to make the trip to Las Vegas, this is that cross-country journey to the Nevada resort town. For those who know these shows well, this is a cheap ticket back to relive the wonder.
By John Soltes / Publisher / John@HollywoodSoapbox.com
Cirque du Soleil: Worlds Away

Written and directed by Andrew Adamson

Starring Erica Linz and Igor Zaripov

Running time: 91 minutes

Rated PG for some dramatic images and mild sensuality

Rating: